ASHP Accredited 
Program Director: Jay Martello, PharmD, BCPS 
Email: jmartello@hsc.wvu.edu 
Positions: 1
Application Due: January 2, 2023
Starting Date: July 1, 2023
Estimated Stipend: $53,000 + benefits
Purpose Statement & Program Overview 
PGY2 pharmacy residency programs build on Doctor of Pharmacy (Pharm.D.) education and PGY1 pharmacy residency programs to contribute to the development of clinical pharmacists in specialized areas of practice. PGY2 residencies provide residents with opportunities to function independently as practitioners by conceptualizing and integrating accumulated experience and knowledge and incorporating both into the provision of patient care or other advanced practice settings. Residents who successfully complete an accredited PGY2 pharmacy residency are prepared for advanced patient care, academic, or other specialized positions, along with board certification, if available.
The PGY2 Internal Medicine (IM) Pharmacy Residency at West Virginia University (WVU) Medicine (WVUM) is an accredited program that builds upon the internal medicine related competencies established in Post-Graduate Year One (PGY1) of residency training. The PGY2 IM program increases the resident's depth of knowledge, skills, attitudes, and abilities to raise the resident's level of expertise in medication therapy management and clinical leadership in the internal medicine setting. The resident will exhibit a commitment to the profession of pharmacy and be able to develop his or her own personal plan for professional development.  Residents will conduct their daily practice with a high level of maturity and leadership. Residents completing this program will have knowledge, skills, and abilities that are highly marketable.
Rotational Learning Experiences:
Required Rotational Experiences:
Orientation
Internal Medicine (x3)
Medical Intensive Care Unit
Ambulatory Care 
Selective Learning Experience: (Resident selects one of the following)
 ⸰ General Cardiology
 ⸰ Neurology
 ⸰ Medicine Hospitalist
Elective Rotational Experiences:
Academia
Advanced Heart Failure/Pulmonary Hypertension (inpatient or outpatient)
Concentrated Scholarship
Emergency Medicine
General Cardiology
Inpatient Transplantation and Cellular Therapy
International Medicine
Medicine Hospitalist
Neurology
Outpatient Parenteral Antimicrobial Therapy
Pain Consult Service
Surgical Intensive Care Unit
The resident will have the opportunity to select four elective experiences. Rotations are structured to meet personal interests. In addition, an optional international rotation in South Africa is also available as a unique learning experience. The program's goal is to prepare the resident for a position in any number of areas of internal medicine practice, including academia and clinical specialist positions.
Longitudinal Learning Experiences: 
Ambulatory Care/Transitions of Care Clinic
Enterprise Committee Involvement (Transition of Care Committee)
Hospital Pharmacy Practice Staffing
Medication Safety
Medication Use Evaluation
Personal and Professional Development
Practice-Related Research
Teaching & Preceptorship 
 ⸰ Continuing Education Seminar 
 ⸰ Practicum Facilitation 
 ⸰ Two Didactic Lectures
 ⸰ Facilitating "Preparing Residency Application Elective" at WVU SOP 
 ⸰ Additional Teaching Opportunities Available Based on Resident Interest 
Application Requirements:
Curriculum Vitae
Letter of Intent
3 Letters of Recommendation
All Graduate School Transcripts
Supplemental

Please attach one item of clinical work from your PGY1 residency year so far. This can be a journal club document, topic discussion document, article, protocol, PowerPoint presentation, poster, etc. The attachment should reflect something you are proud of to represent your clinical pharmacy expertise and does not have to be internal medicine-related.
PGY2 Internal Medicine Residency Director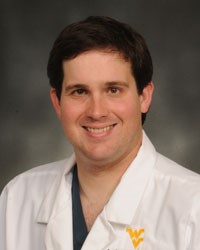 Jay L Martello, PharmD, BCPS, is a Clinical Associate Professor and Clinical Specialist in Internal Medicine with West Virginia University (WVU) School of Pharmacy and WVU Medicine Ruby Memorial Hospital. He graduated from Duquesne University Mylan School of Pharmacy in 2008, and subsequently completed a PGY1 pharmacy practice residency with the University of Pittsburgh Medical Center and University of Pittsburgh School of Pharmacy in 2009, as well as a PGY2 pharmacy specialty residency in internal medicine at WVU in 2010. He joined the faculty of WVU School of Pharmacy in 2010.
Contact: jmartello@hsc.wvu.edu
PGY2 Internal Medicine Residency Assistant Director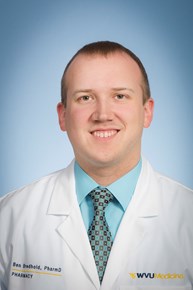 Ben Bredhold, PharmD, BCPS graduated from Purdue University College of Pharmacy in 2016. Following graduation, he completed a PGY1 Pharmacy Residency at the University of Tennessee Medical Center in 2017, followed by a PGY2 Internal Medicine Pharmacy Residency at Eskenazi Health in 2018. He joined WVU Medicine in 2018 as a Clinical Pharmacy Specialist in Internal Medicine.
Contact: benjamin.bredhold@wvumedicine.org