ASHP Accredited 
Program Director: Ashley Street, PharmD, MSHA
Email: ashley.street@wvumedicine.org
Positions: 7
Application Due: January 2, 2023
Starting Date: July 1, 2023
Estimated Stipend: $47,500 + benefits
Purpose Statement
Post Graduate Year One (PGY1) pharmacy residency programs build upon Residents' Doctor of Pharmacy (PharmD) education and outcomes to contribute to the development of clinical pharmacists responsible for medication-related care of patients with a wide range of conditions, eligible for board certification, and eligible for postgraduate year two (PGY2) pharmacy residency training.
Program Overview
PGY1 Residents at WVU Hospitals will be provided the opportunity to accelerate their growth beyond entry-level professional competence in patient-centered care and in pharmacy operational services, and to further the development of leadership skills that can be applied in any position and in any practice setting. PGY1 Residents will acquire substantial knowledge required for skillful problem solving, refine their problem-solving strategies, strengthen their professional values and attitudes, and advance the growth of their clinical judgment. The instructional emphasis is on the progressive development of clinical judgment, a process begun in the advanced pharmacy practice experiences (APPE) of the professional school years but requiring further extensive practice, self-reflection, and shaping of decision-making skills fostered by feedback on performance. Their residency year provides a fertile environment for accelerating growth beyond entry-level professional competence through supervised practice under the guidance of model practitioners. Residents will exhibit a commitment to the profession of pharmacy and be able to develop their own personal plan for professional development. Residents completing this program will have the knowledge, skills, and abilities that are highly marketable. 
The program is a twelve-month, postgraduate training experience composed of six major elements:
Inpatient Care
Ambulatory Patient Care
Medication Management
Practice Management
Practice-Related Education/Training
Practice-Related Research
The program varies for each resident based upon his or her goals, interests and previous experiences. In accordance with current ASHP standards, (see ASHP website) all residents are required to complete learning experiences in core subject areas considered to be essential to the practice of pharmacy.  Additional requirements include the development and completion of practice-related research, the development of oral/written communication skills, the completion of a Medication Use Evaluation, the presentation of ACPE Accredited Continuing Education seminars, the participation in various hospital committees, operational practice in various pharmacy satellites, and teaching components. Elective learning experiences are available to permit the resident flexibility in pursuing individual goals. 
PGY1 Residency Program Director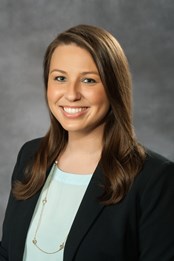 Ashley F. Street, PharmD, MSHA is the Assistant Director of Pharmacy of Adult Clinical Services & Education at WVU Medicine – WVU Hospitals in Morgantown, West Virginia. She also serves as an Adjunct Assistant Professor for West Virginia University School of Pharmacy and is the Pharmacy Residency Program Coordinator for WVU Hospitals. Dr. Street received her Doctor of Pharmacy degree from Virginia Commonwealth University (VCU) School of Pharmacy and her Master of Science in Health Administration from VCU College of Health Professions. She completed a combined PGY1/PGY2 Health System Pharmacy Administration and Leadership Residency at VCU Health. Professional interests include public policy development and legislative advocacy, clinical pharmacy practice advancement, and leadership development. Dr. Street is actively involved in several professional organizations, including the American Society of Health-System Pharmacists and the American College of Clinical Pharmacy.