ASHP Accredited 
Program Director: Doug Slain, PharmD, BCPS, FCCP, FASHP
Email: dslain@hsc.wvu.edu
Positions: 1
Application Due: January 2, 2023
Starting Date: July 1, 2023
Estimated Stipend: $50,000 + benefits
Purpose Statement & Program Overview
PGY2 pharmacy residency programs build on Doctor of Pharmacy (Pharm.D.) education and PGY1 pharmacy residency programs to contribute to the development of clinical pharmacists in specialized areas of practice. PGY2 residencies provide residents with opportunities to function independently as practitioners by conceptualizing and integrating accumulated experience and knowledge and incorporating both into the provision of patient care or other advanced practice settings. Residents who successfully complete an accredited PGY2 pharmacy residency are prepared for advanced patient care, academic, or other specialized positions, along with board certification, if available.
The PGY2 Infectious Diseases Pharmacy Residency at WVU Medicine is an organized, directed, accredited program that builds upon the infectious disease related competencies established in Post-Graduate Year One of residency training. The PGY2 Infectious Diseases Program increases the resident's depth of knowledge, skills, attitudes, and abilities to raise the resident's level of expertise in medication therapy management and clinical leadership in the infectious disease setting. The resident will exhibit a commitment to the profession of pharmacy and be able to develop their own personal plan for professional development.  Residents will conduct their daily practice with a high level of maturity and leadership. Residents completing this program will have the knowledge, skills, and abilities that are highly marketable. 
Rotational Learning Experiences:
The program is a twelve-month, postgraduate training experience composed of 8-blocks of required and elective rotational learning experiences. Some blocks may vary from 4 to 6 weeks in length to accommodate the overall residency scheduling program. Electives can be 2-3 week blocks.
Required Rotational Experiences:
Infectious Diseases Consult Service 
Antimicrobial Stewardship 
Medical Intensive Care 
Bone Marrow Transplant 
Outpatient Antimicrobial Therapy (OPAT) Service 
Elective Rotational Experiences:
Internal Medicine
Emergency Medicine
Surgical Intensive Care
Pediatric Intensive Care 
Pediatric Infectious Diseases
Global Health
Longitudinal Learning Experiences:
Ryan White III HIV Clinic
Infectious Diseases Practice Leadership
Antimicrobial Stewardship & Quality Improvement
Academic Teaching and CE Presentation
Practice-Related Research
Hospital Pharmacy Practice (Staffing)
PGY2 Infectious Diseases Residency Director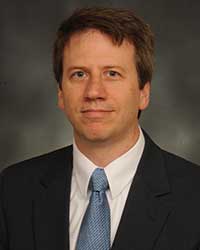 Douglas Slain, Pharm.D, BCPS is currently a Professor and Infectious Diseases Clinical Specialist at West Virginia University.  He received his BS Pharmacy degree and his Doctor of Pharmacy degree from Duquesne University in Pittsburgh.  He then completed a residency and fellowship in infectious diseases pharmacotherapy at the Medical College of Virginia-Virginia Commonwealth University in Richmond.  Additionally, he has the distinction of being a Board Certified Pharmacotherapy Specialist (BCPS) with added qualifications in Infectious Diseases. 
Dr. Slain is a fellow of the American College of Clinical Pharmacy and the American Society of Health-System Pharmacists. Additionally, Dr. Slain was selected as "Clinician of the Year" by the Society of Infectious Diseases Pharmacists in 2007.
Dr. Slain's clinical practice sites at WVU include the Infectious Diseases Consult Service and the outpatient Infectious Diseases clinic. Dr. Slain's clinical and research interests include antimicrobial stewardship, antifungal therapies, pharmacokinetics, and practice-related research.