Created to preserve the fast-disappearing implements and elements of pharmacy practice that had been in existence since West Virginia became a state in 1863, the Cook-Hayman Pharmacy Museum at the West Virginia University School of Pharmacy houses a unique collection of 18th and 19th century pharmacy memorabilia.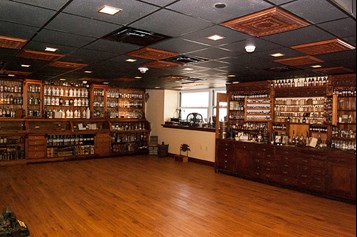 In the early 1950s, museum namesakes Dr. Roy Bird Cook, secretary of the West Virginia Board of Pharmacy and renowned history author, and J. Lester Hayman, dean of the WVU School of Pharmacy, were keenly aware of the rapidly evolving field of pharmacy and healthcare. Combining their extensive experience in pharmacy practice and education and utilizing personal connections with pharmacists throughout the region, they set out to capture the essence of a colorful, dynamic, and aromatic piece of American culture.  
Seeding the collection with artifacts from their personal collections, Cook and Hayman solicited contributions from pharmacists, physicians, and friends throughout the region. The overwhelming response of donations of prescription compounding equipment and ingredients, books, pictures, business records, and sundries from hundreds of donors makes the Museum a truly unique example of central Appalachian practice. Housing these many items are a beautiful set of mid-1800s oak and chestnut showcases and cabinetry.
The West Virginia University School of Pharmacy invites you to experience a step back in time to an era that engaged all the senses and required skills and artistry long gone from our modern world of healthcare.