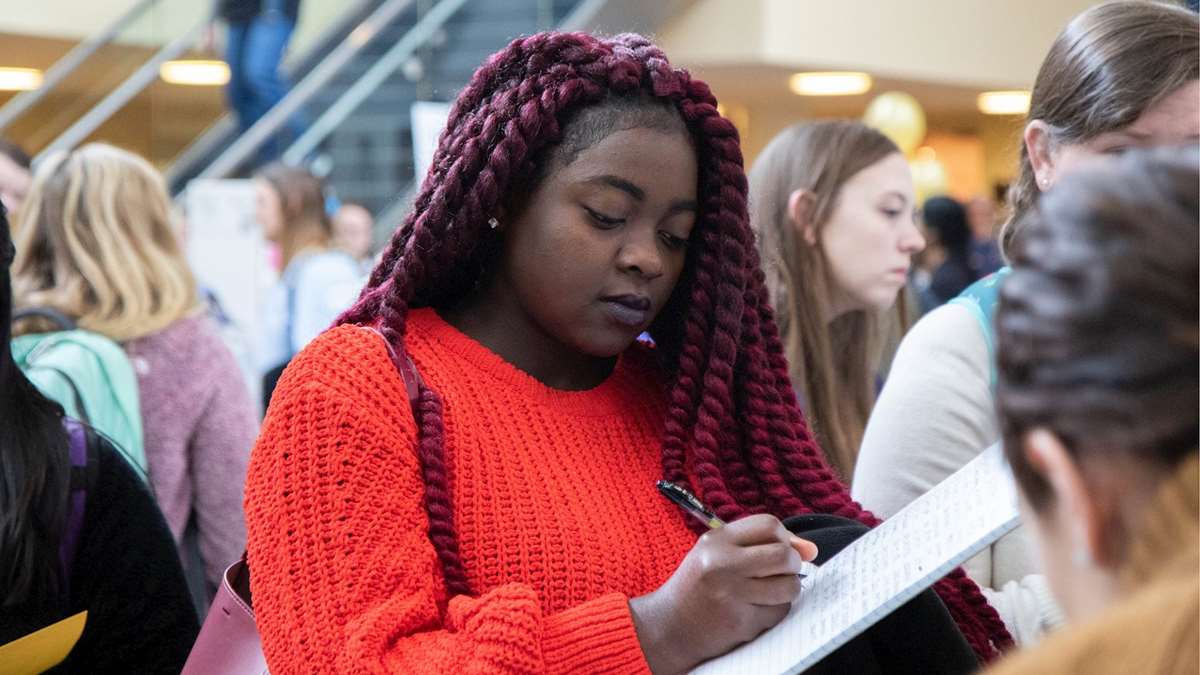 Making the changes she wanted to see: Dianne Techwei helped found student organization to bring together minority cultures
West Virginia University School of Pharmacy student Dianne Techwei continuously saw minority cultures excluded in health care conversations, so she founded an organization — Multicultural Association for Students in Healthcare (MASH) — to bring together students from different backgrounds.
"When I was in my classes, there was an obvious cultural barrier," Techwei said. "Every time I spoke about an experience my classmates weren't able to comprehend or understand the significance."
Now, MASH has an array of student members within the School of Pharmacy, School of Dentistry and School of Nursing. Techwei is not only as one of its founders, but she formerly served as vice president as well. 
MASH is an organization that helps represent minority students in healthcare, works to promote a better understanding of themselves and is a space where they can express themselves without judgement. Additionally, MASH tries to understand and find solutions to the challenge's minorities face in health care. The group also helps create a better understanding between minority and non-minority students.
The MASH organization is continuously growing — the group is developing a website, creating a mentor program and trying to create a link between minority students and minority healthcare workers. MASH members will continue to look to the future and find solutions to problems that are often overlooked.
"We organized MASH to create a setting in which minority students could off load the different challenges they face while at WVU, a space where they were part of the conversation," Techwei said. "In MASH, you have a voice and the ability to be yourself."
Recently, Techwei and MASH were able to bring Vjodzeka Venatius Ngong, CRNA, DNP, to the Health Sciences Center as a guest speaker. Ngong, a lead certified registered nurse anesthetist (CRNA-DNP) at Garrett Regional Medical Center in Oakland, Maryland, is an international educator and focuses on developing the practice of anesthesia in low resource areas. Ngong's research includes point of care ultrasound training in low resource areas, rural ultrasound training in third world countries and to train local anesthesia providers in Africa so that they may be the face of change.
"It was very meaningful for Ngong to come speak at our campus," Techwei said. "It represented that there are people of color doing great and important things in medicine and worked towards inspiring minority students."
In addition to bringing Ngong to campus, Techwei and MASH helped organize the Intersectional Health Fair, which was the first intersectional health fair in the state of West Virginia. The event aimed to recognize the cumulative ways in which multiple forms of discrimination intersect and overlap in healthcare.
MASH understood the disparities and adversities that disadvantaged communities face and organized the Intersectional Health Fair as way to include those in the healthcare conversation and give them a voice. Most importantly, the event attempted to engage WVU Health Sciences students with a population of diverse individuals.
"The Intersectional Health Fair creates a needed opportunity for us to embrace and celebrate our diversity in healthcare while also finding solutions to issues within it," Techwei said.
Techwei's journey at WVU was not without its challenges. But ultimately, it was filled with many opportunities which outweighed the obstacles. While at WVU, Techwei served as the president of the African Student Association; her administration was able to establish the African Outreach Initiative, which helped bring African business unto the American market; and she was instrumental in creating MASH. Techwei also became one of 80 recipients nationwide for the USPHS Public Health Pharmacy Award.
"I am very proud being a Mountaineer," Techwei said. "My time here has been filled with many opportunities and has been nothing short of a rewarding experience."