PharmD Candidate, Class of 2023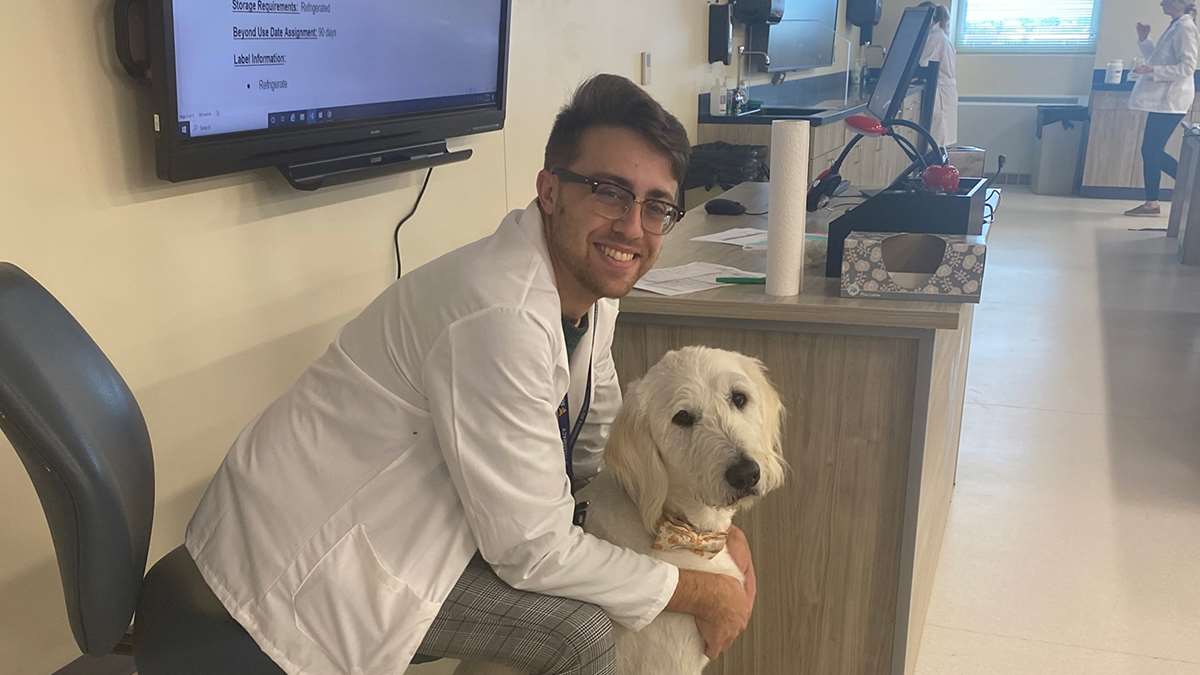 Brandon Harvey, a native of Cross Lanes, West Virginia, came to the West Virginia University School of Pharmacy with a Bachelor of Science in Chemistry and plans to work in research and development. On Saturday, May 12, Harvey will leave WVU with a Doctor of Pharmacy Degree, confidence in his ability to successfully navigate nearly any challenge, a newfound knack for teaching others and a different career path.
What did you initially plan to do with your chemistry degree?
I planned to do bench or wet lab research for a chemical plant or a drug company. I was leaning towards the latter, so I planned to enroll in a program that offered a dual PharmD/PhD in pharmaceutical sciences. I thought that holding both degrees would make me more competitive to work in research and development.
Why did you decide to become a pharmacist?
Sometime during my undergraduate studies, I found a new fascination with studying drugs and medications. In my research, I discovered that pharmacists had more involvement with the study of medications than I initially thought, and I decided to focus my future on attending pharmacy school.
Your professors say that you tutored fellow student pharmacists in chemistry. What was that like?
I thoroughly enjoyed being a tutor for both undergraduate pre-pharmacy students and pharmacy students. Tutoring my peers in classes below me was an excellent opportunity to review what I had learned and improve my communication skills. There is always a sense of excitement when I see that lightbulb moment that students have when everything starts to make sense. Those I have helped, and their professors, have told me that I helped them tremendously during our tutor sessions.
Did having a chemistry degree give you an advantage in pharmacy school?
Having a degree gave me a leg up in two areas. First, having developed more rigorous study habits during my last year of undergrad aided the transition to pharmacy school, where having developed study habits is of utmost importance. Additionally, having multiple additional courses in chemistry that focused on reactions and molecular structures aided me in learning medicinal chemistry during the first year of pharmacy school and understanding drug kinetics, binding, mechanisms and structure-activity relationships a lot easier and a lot faster.
Do you have any interesting stories or memories of your time at the School of Pharmacy that you would like to share?
In March 2020, Dr. Stamatakis came into our class and said, "Take all your stuff with you for spring break." None of us knew what was about to happen, thus started the virtual pharmacy school experience.
That was quite a memory for your class. Tell me about your experience attending pharmacy school during the height of COVID-19.
Transitioning from in-person to online courses was challenging. I learn best when face-to-face with the instructor, and losing the ability to interact directly with my professors made a difference in my overall learning and recall. I had to change my learning style completely. Also, being unable to visit with friends and essentially staying in one place, locked onto a screen for the entirety of the day, was difficult. I never thought I'd struggle with isolation because I didn't consider myself very social, but I did. 
Do you have any mentors that you would like to mention?
I want to recognize and thank Dr. Ashlee McMillan, Dr. Ashleigh Barrickman and Dr. Marina Galvez. These professors helped guide and support me throughout my four years of pharmacy school. I am grateful for everything they did for me and taught me.
What are your plans after graduation?
I matched and accepted a PGY-1 residency at Conemaugh Memorial Medical Center in Johnstown, Pennsylvania.
So, you changed your career path. What will you be doing during your residency?
I have entirely changed my career path from research and development. This residency at Conemaugh is an acute care pharmacy residency. I will further what I have learned in pharmacy school about infectious disease, critical care, oncology, emergency medicine, and more. After completing my PGY-1, I aim to apply for and accept a PGY-2 in emergency medicine.