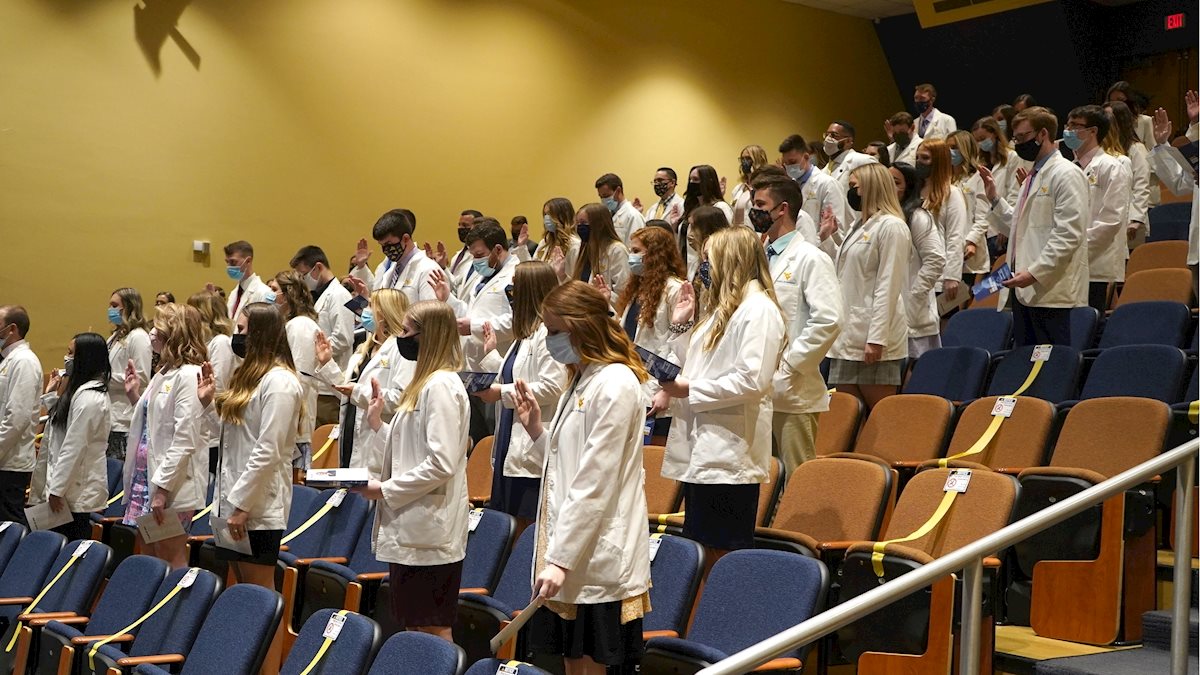 Sixty-nine third-year students at the West Virginia University School of Pharmacy anticipate their transition from PharmD student to PharmD candidate in the annual Bowl of Hygeia Ceremony Friday, April 29, at 5 p.m. in the Okey Patteson Auditorium.
Each spring semester, students completing their third year of pharmacy coursework participate in this pinning ceremony to mark the beginning of the practice portion of the curriculum and the final year of their pharmacy education.
"I am really looking forward to applying what I have learned the past three years and gaining more experience before becoming a pharmacist," said Autumn Fleming. "We have worked so hard up until this moment, and we are finally entering the world of pharmacy — not as student pharmacists, but as Doctor of Pharmacy candidates."
Speakers for the event include Dr. Mary Euler, associate dean of Admissions and Student Affairs and Mary Catherine Platz, Class of 2022 President.
"It is an honor to be a part of this important day for the class below mine," said PharmD Candidate and Class of 2022 President Mary Catherine Platz. "It's hard to believe that it has been a year since I was sitting in those seats and listening to the speeches. A lot can happen during this year, and I am so lucky to be able to help so many future pharmacists start this journey."
During the ceremony, Class of 2023 PharmD students will be individually recognized and presented their WVU School of Pharmacy lapel pins by faculty members including Dr. Euler, Dr. Benoit Driesschaert, and Dr. Kimberly Kelly, Dr. Jay Martello and Dr. Ashlee McMillan.
Following the receipt of the pins, students, faculty and pharmacists in attendance will join in the 'Oath of the Pharmacist' led by Dr. McMillan, Class of 2023 advisor. The oath concludes the ceremony and welcomes the students into their new roles as soon-to-be clinicians.
Upon their departure, new PharmD candidates and their guests can enjoy the beloved "flying WV" cookie to-go.
The Bowl of Hygeia's name originates from the Greek goddess of healing, Hygeia. She is traditionally depicted carrying a chalice or bowl with her patient's remedy as prescribed by her physician father Asclepius.
For more information about the WVU School of Pharmacy and the PharmD Program, visit https://pharmacy.hsc.wvu.edu/.