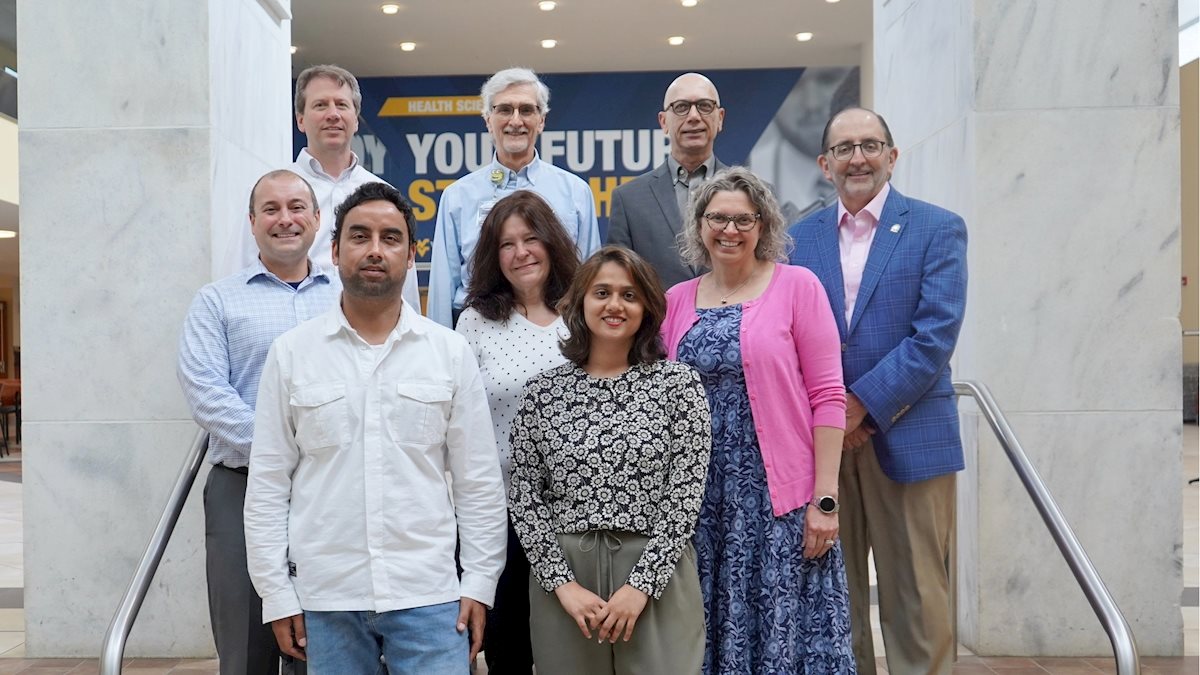 In a world where the exchange of knowledge transcends borders, two students from the National University of Science and Technology (NUST) in Oman traveled to Morgantown, West Virginia, for a unique learning experience. Master of Science in Clinical Pharmacy candidates Faisal Al Balushi and Marwa Al Balushi (not related) completed a four-week clinical rotation at WVU Medicine J.W. Ruby Memorial Hospital as part of the West Virginia University School of Pharmacy's ongoing exchange program with NUST.
Faisal and Marwa are the first master's level students to participate in the program. During their rotation, they visited the WVU Medicine Center for Integrative Pain Management, WVU Cancer Institute and community pharmacies, among other activities. However, their experiential rotation focused on participating in clinical rounds with Professor Emeritus Charles Ponte, PharmD, physicians, nurses and other healthcare professionals at J.W. Ruby Memorial Hospital. Faisal and Marwa were specifically interested in gaining insight from the interdisciplinary team and understanding the dynamics of patient care.
"Here [at Ruby Memorial Hospital], if there is a patient, you will see a pharmacist, a nurse and a physician. Not working in interdisciplinary teams is one of our biggest drawbacks at home," Marwa said. "Pharmacists don't have the opportunity to gather with doctors and nurses in one room to discuss the patient. I was amazed by the strong communication skills between the health professions and how they respected each other's opinions."
In Oman, opportunities for interdisciplinary work are scarce, varying from one hospital to another. Marwa, a clinical pharmacist at Royal Hospital, says physicians collaborate as needed, only seeking pharmacy services when medication-related inquiries arise. However, she said a few hospitals in Oman mirror the practices she witnessed at WVU Medicine, with interdisciplinary teams conducting rounds and assessing patients. The critical distinction, she said, is that at WVU Medicine, doctors are very thorough when evaluating a patient, looking at each health issue. Whereas in Oman, doctors only consider the patient's primary complaint.
One aspect of patient care that particularly struck both students was the clinical discharge process. At WVU Medicine, they observed a thorough approach to patient education and follow-up care. Before discharge, healthcare teams ensure patients are well-informed about their post-discharge plans, medication regimens and necessary medical appointments. They were unfamiliar with this level of clarity and guidance, but it resonated with them as a critical aspect of patient care.
"In clinical discharge, we saw this angle which was quite helpful to the patients of the U.S.," Faisal said. "Being able to monitor the patient after a few days or weeks gives you an idea about adherence and how well they comply with the treatment."
Reflecting on their time at the School of Pharmacy, they shared their most significant takeaways. For Faisal, the importance of having a "Plan B" stood out. Inspired by Ponte's relentless dedication to his patients, Faisal internalized the idea of not giving up and digging deeper to find alternative solutions when faced with treatment challenges. For Marwa, communication among the healthcare team emerged as the most valuable lesson.
In the spirit of knowledge exchange, Faisal and Marwa were asked about practices in Oman that could be adopted in the U.S. Faisal shared the concept of specialized hospitals, citing an example of a hospital in the capital that exclusively focuses on orthopedics, rehabilitation and neurological cases. He believes implementing specialized hospitals could enhance expertise and enable dedicated care for specific conditions, ultimately ensuring more comprehensive and efficient treatment.
As the conversation shifted toward medication dispensing and regulations, the interviewees explained that Oman lacks an independent FDA equivalent. Instead, they referred to the Saudi Arabian government for drug and food administration. Additionally, they noted that Oman's medication distribution system operates from a centralized store in the capital, leading to challenges in meeting the population's growing demands. They expressed the need to decentralize the distribution system to ensure efficient and timely access to medications.
On their last day at WVU, Faisal and Marwa gave a presentation on their rotation, including a clinical case review. Allie Karshenas, associate vice president for global engagement at WVU Health Sciences, attended the presentation and explained why this exchange program is so important.
"The WVU School of Pharmacy has a long-standing history in supporting our academic partnership with the National University for Science and Technology," Karshenas said. "The faculty and staff have always been innovative and creative to come up with programs and novel approaches to teaching NUST students from Oman to have the best academic and applied experience in pharmaceutical sciences. The student exchanges are vital to the diversity of our cultures and expanding our global footprints."
Faisal and Marwa plan to pursue doctorate degrees in the future. Faisal intends to work in a drug information center, which has yet to be established in Oman. Marwa wants to continue working in clinical pharmacy. They both agreed that their journey to WVU fulfilled their hopes and expectations, and they intend to implement their newfound knowledge upon returning to Oman.
Photo: Faisal Al Balushi and Marwa Al Balushi (front) completed a four-week clinical rotation at WVU Medicine J.W. Ruby Memorial Hospital as part of the West Virginia University School of Pharmacy's ongoing exchange program with the National University of Science and Technology in Oman.