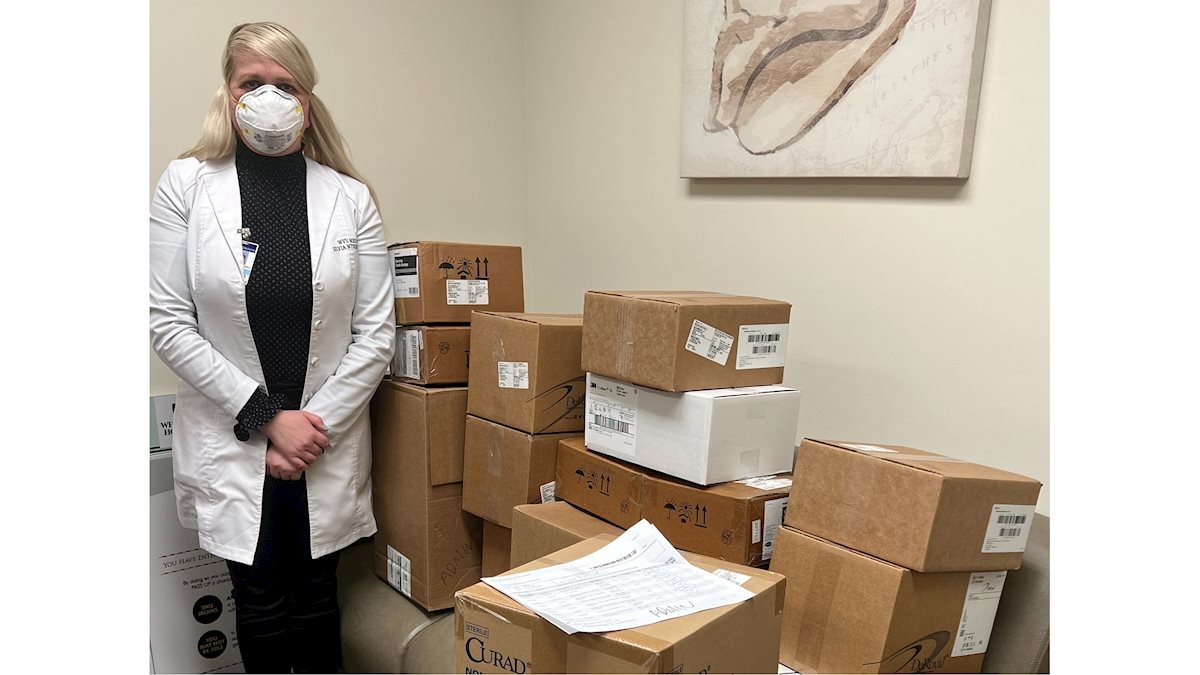 A West Virginia University School of Nursing graduate student and Ukraine native is leading an effort at WVU Medicine Wheeling Hospital to donate medical supplies to her home country.
"I was born in Ukraine and lived in Ukraine for 25 years," shared Silvia Myndresku, a hospitalist-nurse practitioner at Wheeling Hospital, and a student in the WVU Doctor of Nursing Practice (DNP) program. "I still have family in Ukraine and every night before I go to sleep, I pray they're OK."
She said seeing the news has been heartbreaking, so she wanted to do something to show support. Partnering with Heidi Porter, Vice President of Quality and Regulatory Affairs at Wheeling Hospital/WVU Medicine, they worked to collect medical supplies to send to a Ukrainian Orthodox Church in Pittsburgh, which is making regular shipments.
Within the first two weeks of the conflict, Wheeling Hospital was able to donate dozens of medical supplies to those in need. Myndresku said she was thankful the packages could be shipped to Poland, then transported by car to the people in need.
"There's so much devastation, but it warms my heart to be able to have support from WVU Medicine and the WVU School of Nursing," Myndresku said. "Everyone from my DNP program reached out with kind words and asked, 'What can we do for you?' So many professors, and two of my classmates and friends, Beth and Kayla, reached out to me to say, 'We're here for you.' It made my heart feel better knowing I have a nursing family here at WVU."
Before coming to the United States as an international student, Myndresku said she only knew around 50 words in English.
"Nursing is very hard, and I felt as an international student, I had to work twice as hard. My daughter was 7 when we left. We've both been through a lot in the last 16 years, most of which has been good. My daughter Marianna Kibak is now in the WVU School of Pharmacy. So many WVU School of Pharmacy professors reached to her with kind words of support."
Despite the challenges, Myndresku has found success — she is a professor at Wheeling University, where she received her undergraduate degree, and she will graduate from the WVU DNP program in August.
"I'm usually a very strong person, but over the last month, it has crushed my heart seeing people in Ukraine being killed," Myndresku said. "I am very, very thankful for all the support I've received. In such a critical time, it's good to know people care."
She said she is currently planning to send another shipment of medical supplies to Ukraine next week through the Ukrainian Orthodox Church in Pittsburgh. She hopes to continue working with Wheeling Hospital to send donations as often as possible.
-WVU-
CONTACT: Wendy Holdren
Director of Communications and Marketing
WVU School of Nursing
304-581-1772; wendy.holdren@hsc.wvu.edu