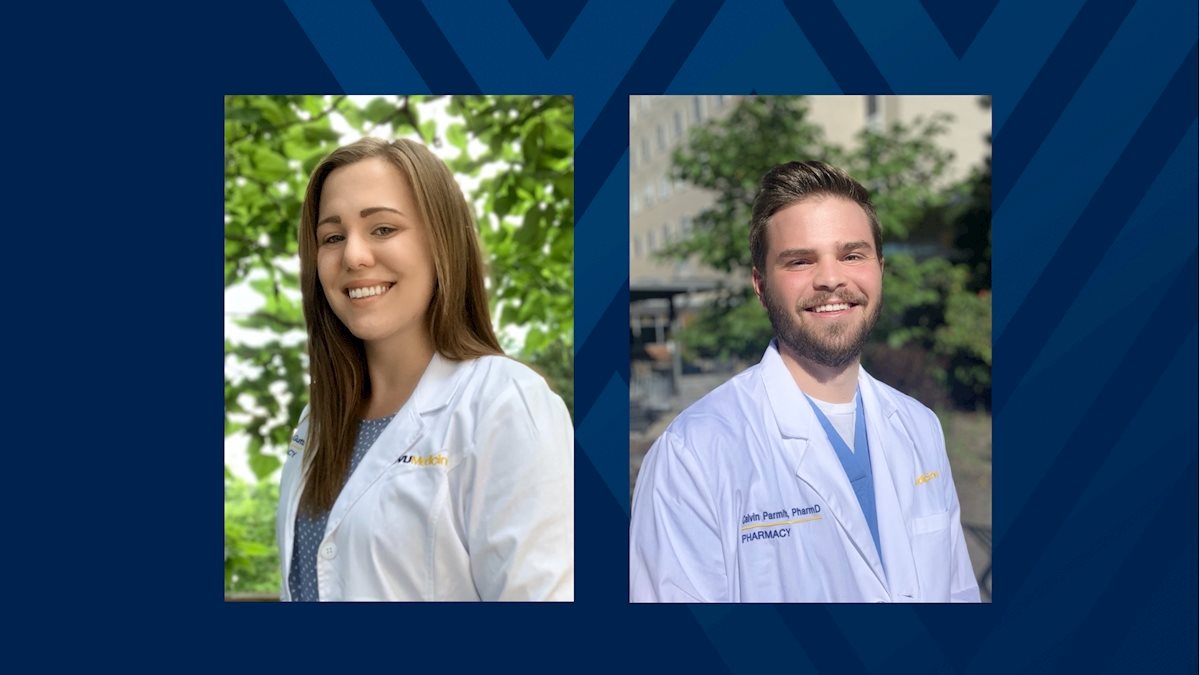 Leadership gaps are among the top challenges facing the healthcare industry. Thousands of job vacancies created by retiring baby boomers are juxtaposed with a growing millennial workforce that is arguably less interested in traditional managerial and executive roles.
The pharmacy department at WVU Medicine – WVU Hospitals is not immune to this trend. Dr. Todd Karpinski, residency director and chief pharmacy officer for WVU Medicine, says not enough pharmacy graduates are interested in leadership positions.
"I think most people who choose pharmacy as a career are interested in patient care or other pharmacy-related activities, said Karpinski. "When you think about a pool of pharmacy graduates, probably two thirds of them will go into retail pharmacy, and one third of them will go into health system pharmacy. Only a small chunk of the latter group will actually want to do leadership in health systems, so I think it's important that we train them well."
To groom the next generation of pharmacy healthcare administrators, WVU Medicine launched its PGY-1/PGY-2 Health System Pharmacy Administration & Leadership Residency on July 1. The two-year program is one of 66 nationwide. The program's goal is to provide residents with the skills to assume high-level leadership and managerial responsibilities.
"There's no program like this in West Virginia, and we felt it was important to look within the state to develop our future leaders," said Dr. Daniel O'Neil, Director of Pharmacy for WVU Hospitals (WVUH). "We posted a leadership position that was vacant for two years. We had some qualified applicants, and we had some offers out there, but it wasn't as competitive as we would have liked. For us, it illustrated the need to develop future leaders who are either from here or who can see themselves calling West Virginia home."
"Over the WVU School of Pharmacy's 106 year history we have produced a number alumni who became strong national leaders, however it took them many years to gain the skills to accomplish such. This new residency will provide the trainees with an accelerated degree of leadership experience in one of the fastest growing and highly rated rural health systems in the US," according to Dr. William Petros, Dean of the WVU School of Pharmacy.
Bradley Gutta, pictured left, and Calvin Parmiter, pictured right, (both WVU PharmD, 2020) are the program's first residents. During their initial year, they will focus on developing their clinical skills. In the second year, they will spend time with pharmacy and hospital leaders, work on high-level projects, and manage technicians. They will also have rotational opportunities in operations, finance, specialty pharmacy, supply chain, retail pharmacy, and clinical pharmacy.
"We want to arm our residents with tools they can apply to a wide variety of positions," said Karpinski. "We want to give them a broad experience, so no matter what pharmacy area they choose to practice in, they'll be the number one person for that job."
Dr. Gutta, a native of Elkins, West Virginia, and Dr. Parmiter, a native of Caldwell, Ohio, are familiar with WVUH. They both completed their Advanced Pharmacy Practice Experience rotations there during their fourth year at the School of Pharmacy.
"I'm excited about being one of the first two residents in this new program, said Gutta." My co-resident and I have met a lot of the preceptors and management already. I feel this will give us a head start and help us build the program from the ground up with our residency program director. It's true what they say. Mountaineers do Go First!"
Dr. Karpinski agrees. "We don't want a plug and play canvas model here. It's going to be what works for us. We will allow our residents, especially these first two, to help shape the program. We want to learn from them—what works, what we can do better—so that we continually evolve this program to be the best that it can be."
The program is evolving as Dr. Karpinski says there are discussions to expand the program to include an MHA (Master of Health Administration) through the WVU School of Public Health. The combined PGY-1/PGY-2/MHA Health-Systems Pharmacy Administration and Leadership Residency would still be a two-year program.