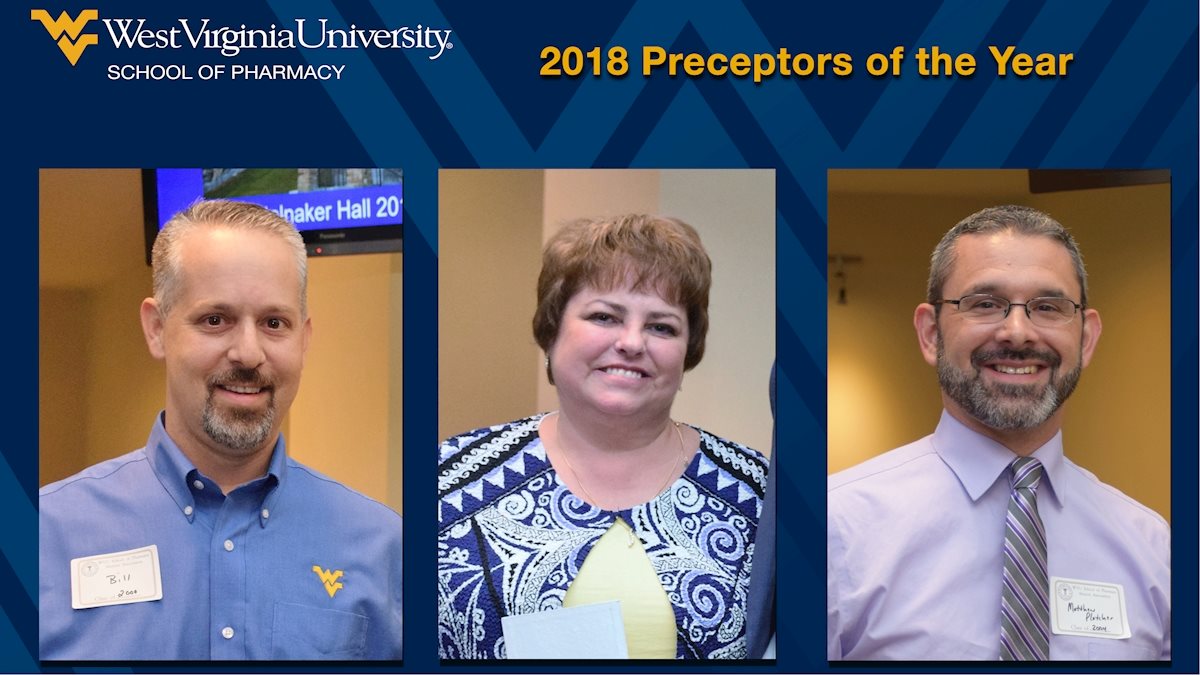 The West Virginia University School of Pharmacy is recognizing three area pharmacists for their outstanding mentorship.
Bill Renner, Terri Davis and Matt Pletcher received the 2018 WVU School of Pharmacy Preceptor of the Year award on Friday, June 8 at the School's annual Alumni Reunion Dinner. The award recognizes pharmacists who are committed to the experiential training of student pharmacists by providing them with an outstanding learning experience. Students nominate recipients based on their rotation experiences.
School of Pharmacy Assistant Professor and Director of Experiential Learning Mark Garofoli read student comments aloud as Dean William Petros presented each winner with a plaque.
"Bill [Renner] is an amazing preceptor that loves to teach and lives to serve, said one student. "I learned more in the past four weeks about the pharmacy profession than I have in my entire P1 year. I am forever indebted for this experience."
Another student said, "He is not only one of the most amazing pharmacists I've ever met but also one of the nicest people I know. I am thankful that I was able to learn about retail pharmacy from a true pillar of the community. Now, I am more motivated than ever to become a pharmacist, and I look forward to what the future holds for me in this profession. "
Renner is a pharmacy manager at Walgreens in Fairmont, West Virginia. He earned his Bachelor of Science in Pharmacy (B.S. Pharm) from WVU in 2000 and his Master of Business Administration (MBA) from the WVU School of Business in 2003. Before working for Walgreens, Renner was a pharmacist at Summersville Regional Medical Center in Summersville, West Virginia, and a staff pharmacist for CVS and Rite Aid.
Davis is a clinical pharmacist and an employee board member at Davis Medical Center in Elkins, West Virginia. Prior to her current position, she worked as a staff pharmacist at Walmart and a pharmacy manager at Rite Aid. She earned her B.S. Pharm from WVU in 1982.
"Terri [Davis] is a great preceptor! Learning from someone with so much experience in so many different areas was very beneficial. She is a great teacher and is incredibly knowledgeable."
"Terri is one of the friendliest and most welcoming people you will meet. I felt comfortable asking her questions, and she taught me many valuable lessons. My rotation with Terri was a wonderful experience—one I won't soon forget."
Pletcher is a pharmacist at Rider Pharmacy in Fairmont, West Virginia. He earned his PharmD from WVU in 2012. Here's what students had to say about him:
"Dr. Pletcher asked the hard questions that led to rewarding answers. He served as an excellent role model and expressed interest in helping me realize my full potential."
"I was a great experience learning from a wizard of a pharmacist."
If you are a pharmacist interested in becoming a preceptor, visit https://goo.gl/Us6fzv to learn more.