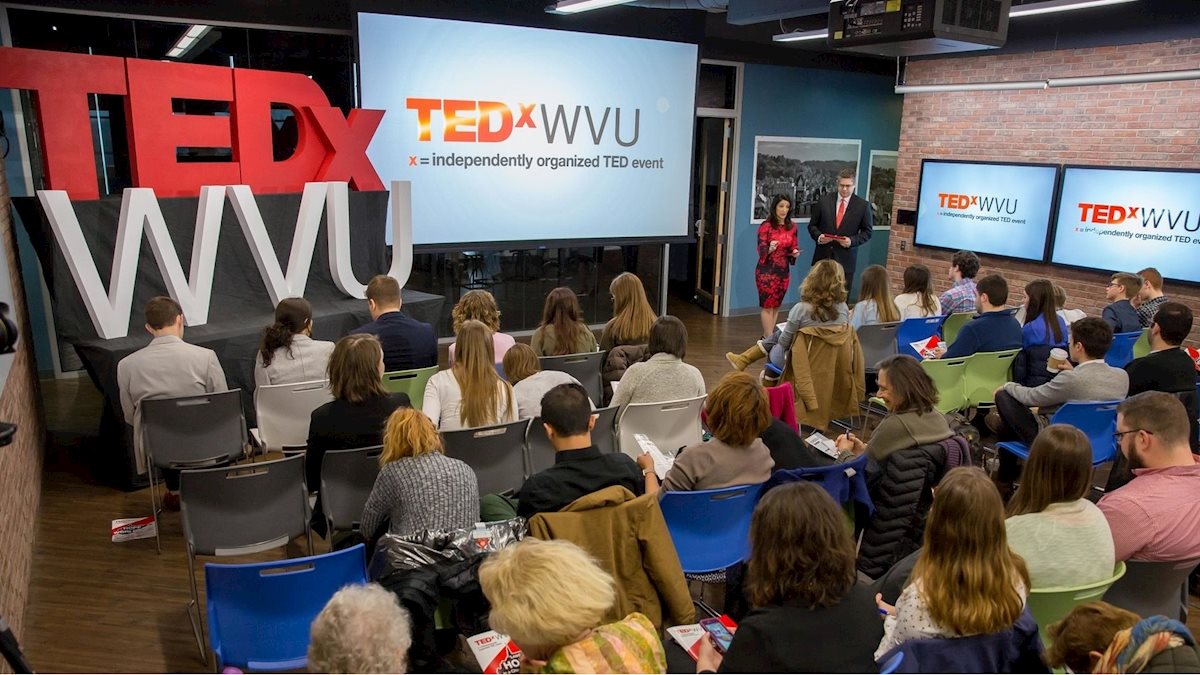 West Virginia University's student-run organization, TEDxWVU, is proud to announce its third independently organized TEDx event Saturday, March 28, at the WVU Creative Arts Center Gladys Davis Theatre. This year's theme is "Say it Loud."
TEDxWVU is seeking speakers to present talks that will spark deep discussion and connection surrounding the "Say it Loud" theme. Speaker applications close Jan. 13.
Past event speakers include Emily Calandrelli, Executive Producer and Host of FOX's "Xploration Outer Space;" Ginny Thrasher, WVU Student and 2016 Olympic Gold Medalist; and Anthony Zolezzi, CEO of Twinlab Consolidated Holdings and Bubba Gump Shrimp Co.
"TEDxWVU has created a space in my life for exploration -- for learning, listening and lifting up voices around me. I am so thankful for this organization and I am ecstatic to be able to create this event for a third consecutive year," explains Allie Satterfield, TEDxWVU Chair.
About TEDx, x = independently organized event
In the spirit of ideas worth spreading, TEDx is a program of local, self-organized events that bring people together to share a TED-like experience. At a TEDx event, TED Talks video and live speakers combine to spark deep discussion and connection. These local, self-organized events are branded TEDx, where x = independently organized TED event. The TED Conference provides general guidance for the TEDx program, but individual TEDx events are self-organized. (Subject to certain rules and regulations.)
About TED
TED is a nonprofit organization devoted to Ideas Worth Spreading, often in the form of short talks delivered by leading thinkers and doers. Many of these talks are given at TED conferences, including our annual gathering in Vancouver, as well as TEDWomen, intimate TED Salons and thousands of independently organized TEDx events around the world. Videos of these talks are made available, free, on TED.com and other platforms. Audio versions of the talks from TED2019 are published to TED's podcast TED Talks Daily, available on all podcast platforms.
TED's open and free initiatives for spreading ideas include TED.com, where new TED Talk videos are posted daily; TEDx, which licenses thousands of individuals and groups to host local, self-organized TED-style events around the world; the TED Fellows program, which selects innovators from around the globe to amplify the impact of their remarkable projects and activities; The Audacious Project, which surfaces and funds critical ideas that have the potential to impact millions of lives; TED Translate, which crowdsources the subtitling of TED Talks so that big ideas can spread across languages and borders; and the educational initiative TED-Ed. TED also has a growing library of original podcasts, including The TED Interview with Chris Anderson, WorkLife with Adam Grant, TED en Español and Sincerely, X.
Follow TED on Twitter at http://twitter.com/TEDTalks, on Facebook at http://www.facebook.com/TED, on Instagram at https://instagram.com/ted and on LinkedIn at https://www.linkedin.com/company/ted-conferences.