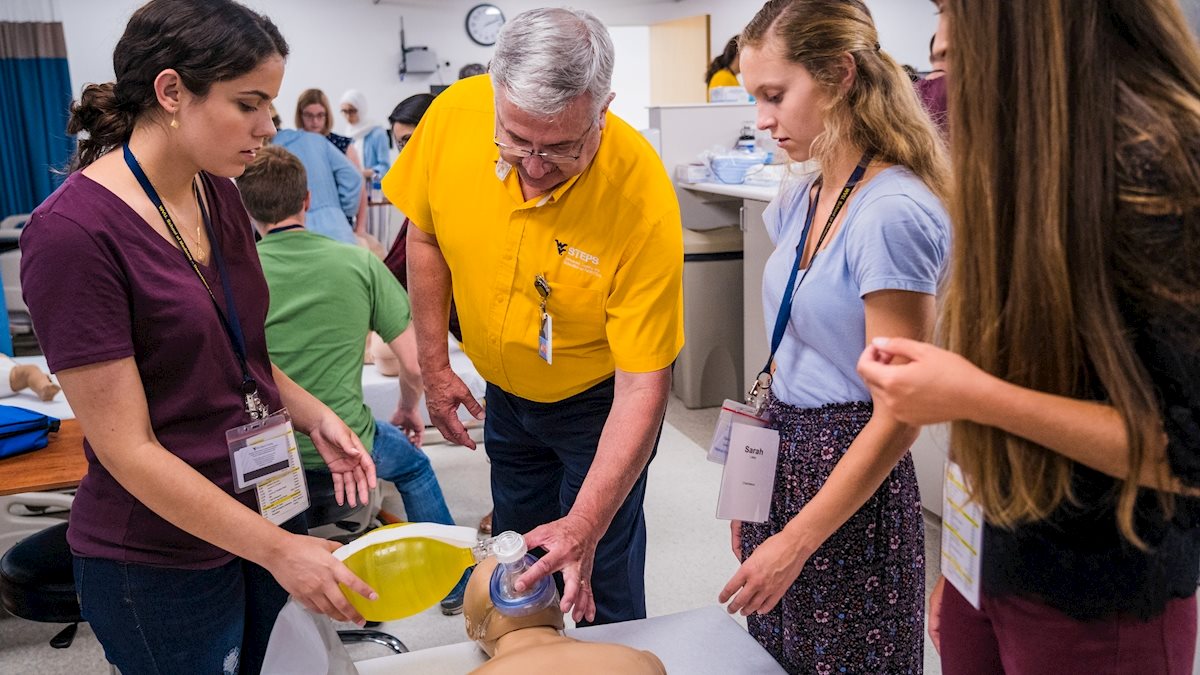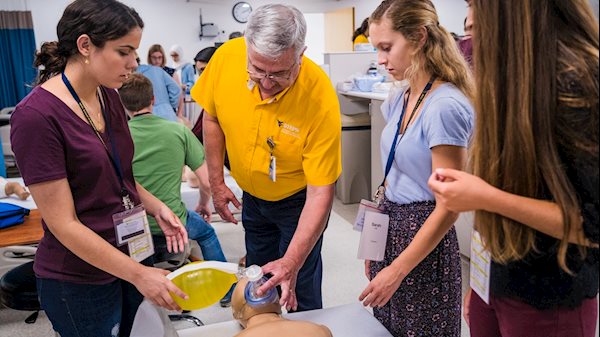 From firefighter to flight paramedic to educator, Russell "Rusty" Doerr has lived a life of service to others.
Rusty's desire to help others started as a young child, growing up as the son of a firefighter, and led him to a career at West Virginia University that spans more than 30 years.
"I was born and raised in Elkins, and I have always lived in West Virginia," Rusty said. "My father was a fire service instructor and I traveled with him to teach fire classes in different parts of the state. As a young adult, learning and teaching others seemed to be very much a part of the career."
When Rusty chose to become a firefighter himself, his connection to the University began, having received training offered through WVU Extension. He then went on to complete National Registry paramedic training and critical care paramedic training prior to joining Randolph County Emergency Medical Services and later working as a flight paramedic for WVU Medicine. In addition to treating and transporting critically ill and injured patients, his flight medic role included educational outreach opportunities. After 28 years of treating patients in pre-hospital service, Rusty decided to focus his career on healthcare education, accepting a position at WVU Health Sciences and becoming a Certified Healthcare Simulation Educator.
"As a flight medic, we provided education as part of our outreach program, so teaching just became part of what I did," Rusty said. "In 2009, I learned of a position with the new simulation center at WVU which incorporated medical education and computer and technical skills that I considered a hobby. The position allowed me to use those technical skills and share knowledge with learners from many different schools. It also allowed me to transition from bedside care and field medicine to an indoor career that had new challenges and new rewards."
Since transitioning to an academic role, Rusty drew on his professional work experience and earned a Regents Bachelor of Arts degree from WVU and was named lead simulation education specialist for the David and Jo Ann Shaw Center for Simulation Training and Education for Patient Safety (STEPS).
"I think my position at STEPS was a matter of perfect timing," he said. "It just seemed like a great fit for me, and I am very fortunate to have been given the opportunity to grow in this role while sharing my experience with young healthcare professionals."
STEPS is a state-of-the-art simulation center that provides a safe setting for individuals to improve their skills before encountering patients in everyday and critical care situations. The 20,000-square-feet space, housed on the Health Sciences Campus in Morgantown, includes two 10-bed open lab spaces, 12 patient exam rooms, a large surgical skills unit, an operating room, a mother-child suite, four ICU setups and the latest technology, including augmented reality and virtual reality equipment and high fidelity manikins. The fully responsive technology provides learners of all skill levels, from medical students to surgical faculty, with the opportunity to learn life-saving procedures, develop interprofessional communication skills, and use new technologies.
"Someone told me once that experience is something you gain, just after you needed it. That statement is so true," Rusty said. "Experiential learning allows our learners to gain valuable experience in a safe environment. This practice in simulation allows us to learn medical care and critical thinking before needing those skills with patients. People can learn from mistakes without any patient harm."
The unique makeup of the Health Sciences Campus, which includes WVU's five health schools – Dentistry, Medicine, Nursing, Pharmacy and Public Health – in one location, provides a solid foundation for promoting interprofessional collaboration among students, faculty and staff. The campus is also the largest concentration of healthcare, research and health professions resources in West Virginia, allowing interprofessional education at WVU to flourish and become a model for other institutions across the country.
"One thing that I believe puts STEPS above elsewhere is the interprofessional experiences that are available," he explained. "Being the simulation center for all the schools at Health Sciences allows our learners to practice together as they would in the real clinical environment.
"The other thing that makes us special is our staff. We have been blessed with a group of people who are dedicated to student success. Our people have a thirst for knowledge and continue to seek ways to improve."
The team at STEPS is continually evolving its training opportunities to provide the most advanced education that will optimize patient safety and the quality of healthcare. In 2022, learners at WVU completed more than 29,000 educational encounters.
"I think my favorite part of the job is being able to help learners become healthcare professionals and hopefully improve the future of healthcare," Rusty said. "Hearing stories from our past learners about how they had applied things they learned through our Center to benefit patients makes what we do very rewarding. We also get to help mentor new educators to help them utilize experiential learning in their teaching.
"I believe working in healthcare is a very rewarding career," Rusty said. "Helping others during challenging and life-changing moments provides gratification that cannot be measured."
Photo at Top: Rusty Doerr (center) teaches Basic Life Support to first-year medical students in the WVU Health Sciences David and Jo Ann Shaw Center for Simulation Training and Education for Patient Safety (STEPS).
---
-WVU-
jw/9/18/23
CONTACT: Jessica Wilmoth
Senior Communications Specialist
University Relations – Health Sciences