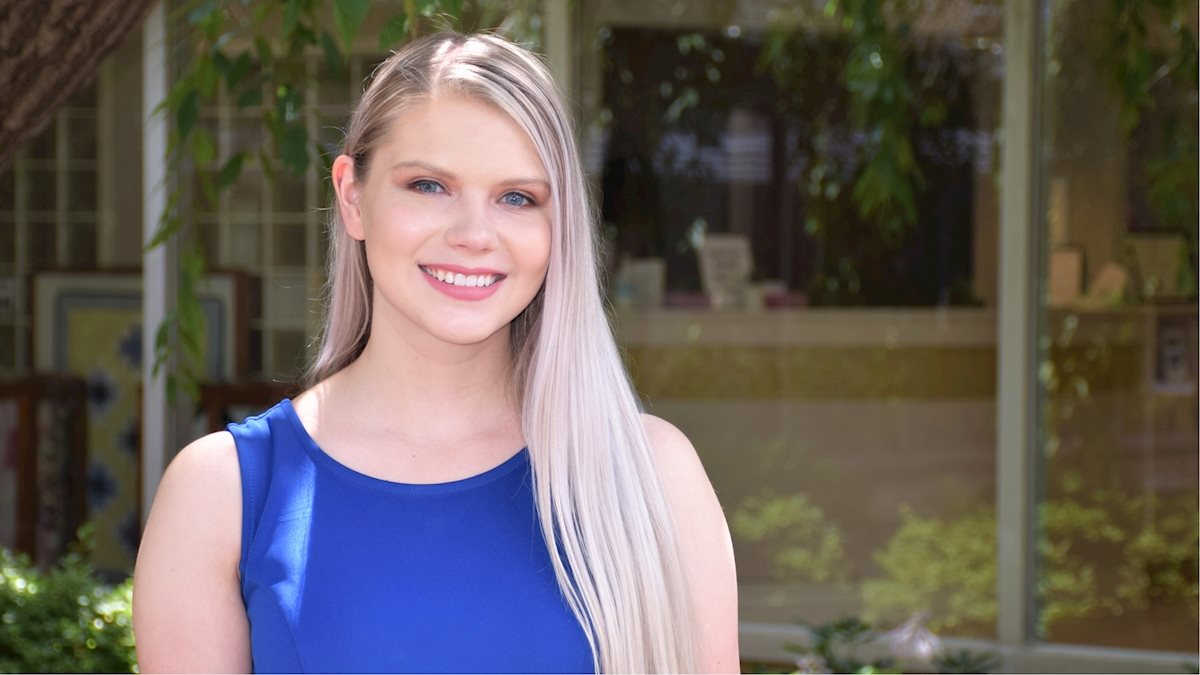 Krystal Hughes, a third-year pharmacy student at the West Virginia University School of Pharmacy, is one of seven students acting as a national student officer for the Industry Pharmacists Organization (IPhO). Hughes is a preceptor to IPhO's numerous regional student officers and interns across the country. Her duties include recruiting and hiring interns, conducting interviews and establishing and managing projects on a large scale. This is the first year that IPhO has had and internships director. Hughes will hold the position until spring 2020.
Christa Currey: How did you become the internships director for IPhO?
Krystal Hughes: I was a virtual intern for IPhO in fall 2018. I assisted the organization with its professional development by gathering internship opportunities from drug companies and creating a catalog for IPhO members. One of the regional student officers that I worked for recommended me for internships director. IPhO reached out to me based on her endorsement and my performance as an intern. It was kind of crazy because I received an unexpected email from the organization asking me to apply for a national officer position, but I didn't know what I was applying for until the day of the interview. In hindsight, I think they did that on purpose because I didn't apply for the position. I believe they wanted to see — without preparing me — if I was truly a good fit for the position and the organization.
CC: What were some of the qualities they were looking for in the ideal candidate?
KH: They were looking for someone with communication and time management skills. With a national organization, everyone is in different time zones, so that's something you need to work around. They were also looking for previous IPhO experience. My P1 year I was the chief operating officer for WVU IPhO. My P2 year, I was the president-elect. In addition, they liked the fact that I had experience rebuilding WVU IPhO. I was largely responsible for increasing our membership over two years from eight members to the 52 we have currently.
CC: How do you feel this experience will help you in the future?
KH: It will help me manage people on a large scale. I have leadership experience on a school level, but it will be a challenge having everyone spread out across the country. I will have to adjust my schedule and work with them virtually to get things done. Also, reaching out to people through email, phone calls and social media will help me develop my communication skills.
CC: How do you feel about a peer recommending you for this position?
KH: It is a huge honor because last year I applied for a regional officer position, and I didn't get it. I felt discouraged because I wasn't selected. Now, here I am in a national student officer position. It's surreal, and it makes me think of something my professors say constantly at the pharmacy school "It [pharmacy] is a small world." If I hadn't made a connection with my regional officer, then I probably wouldn't have been recommended for the internship's director position.
CC: What would you tell other students who are looking for similar opportunities?
KH: You have to get involved in student organizations as soon as possible during your P1 year. You need to start going to meetings and figuring out where you fit in. Many of my classmates waited until their P2 year, but spots fill up fast. People know what clubs they want. It's really about establishing what you're passionate about. I think getting involved early and making connections is important. I'm a first-generation college student, and I felt intimidated by my classmates who knew someone in pharmacy or their parents were in pharmacy. I realized it doesn't matter. You have to make connections and really push for what you want. If you put yourself out there, people will remember you.
To read the official announcement of IPhO's 2019 national student officers click here.