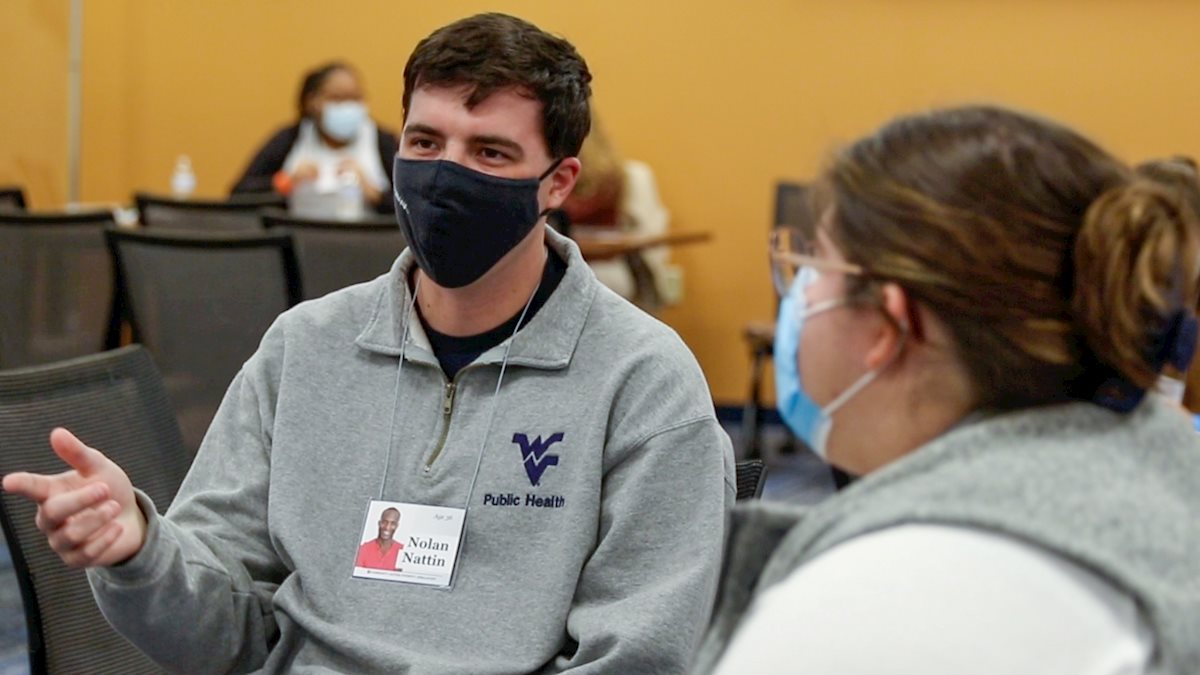 The Martin Hall Agency, a student-run advertising and public relations agency in the West Virginia University Reed College of Media, partnered with the HSC Office of Interprofessional Education, the WVU School of Public Health, WVU School of Pharmacy and the WV STEPS Center in hosting the Community Action Poverty Simulation (CAPS) — a new certification available to all Health Sciences students.
Poverty is a reality for many individuals and families. An estimated 278,734 West Virginians lived in poverty in 2019, for a total poverty rate of 16%. But unless you have experienced poverty, it is difficult to truly understand it. The CAPS bridges that gap from misconception to understanding. CAPS is an interactive immersion experience. It sensitizes community participants to the realities of poverty.
Health Sciences students were invited to complete the two-hour CAPS and fill out a post-assessment survey to receive this certification. The simulation provided hands-on experience for students to better understand the challenges many individuals and patients face in the West Virginia community. It also helped future healthcare professionals gain a better understanding of how to help people who are impoverished on a daily basis.
Master of Public Health student Inni Ngijoi Yogo said CAPS provided a "newfound awareness of the system of poverty in our communities" and expressed gratitude for the experience.
CAPS is not a game. It is based on real Community Action clients and their lives. CAPS exists to:
Promote poverty awareness – During the simulation, participants role-play a month in poverty and experience low-income families' lives.
Increase understanding – After the simulation, participants will unpack their learning and brainstorm community change.
Inspire local change – Together, participants can be a voice to end poverty in their family, friends and community.
Transform perspectives – The goals of CAPS are to shift the paradigm about poverty away from being seen as a personal failure and toward the understanding of poverty as structural, a failure of society.
During the Poverty Simulation, the participants assumed the identity of up to 26 "families" where they simulated life as an impoverished person. WVU Health Sciences students and city council members were in attendance as volunteers or participants.
Participants worked together with their family to live a month in poverty, trying to maintain their basic needs. The simulation took place in a room which was set up to represent the community. Chairs in the center of the room and tables along the wall represented family homes, community services and businesses. Just as in real life, participants need transportation to work or school, food on the table and money to pay bills. Throughout the month, participants faced the daily stresses and challenges a person in poverty faces.
"Even though it's already been three hours, I still feel myself in flight-or-fight survival mode," Yogo said, shortly following the simulation. "I'm still shocked, especially after experiencing my role as head of the household. I think the simulation successfully changed my perspective on how I choose to live and I'm hoping that [WVU] will continue to do similar simulations in the future."
The Martin Hall Agency created a new group on campus called Humans of Morgantown. This group seeks to show that whether you are sheltered or unsheltered, you are still a resident of Morgantown and we are all neighbors. Humans of Morgantown works to share the stories of the city's residents and create neighbors outside of neighborhoods.
Humans of Morgantown was founded during the Fall 2021 semester and has been conducting researching and collecting data about how it can best serve the community. The group believes that by learning and understanding the problem, they can discuss opinions and solutions in a proactive way. By improving the services offered to the community, everyone in it can benefit.
Humans of Morgantown assisted STEPS Center in planning the CAPS event, which was held Dec. 2 from 5:30 to 7:30 p.m. at the Health Sciences Center.
Learn more about Humans of Morgantown. Learn more about CAPS.
Pictured above: Ryan Titus, a senior majoring in public health from Leesburg, Va., participates during the Community Action Poverty Simulation.
-WVU-