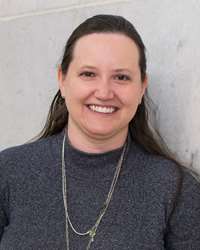 The moment that Julie Rumbach-Austin, Class of 1996, knew that she wanted to be a pharmacist was shortly after her grandmother had a stroke that left her paralyzed on her right side. When Rumbach-Austin visited her grandmother, she watched her take her medication and was interested in how it worked to help her grandmother.
Curiosity about medication and health led Rumbach-Austin into the profession of pharmacy, but it is patient interaction that has kept her in community pharmacy practice. Rumbach-Austin is the District F patient care coordinator for Kroger pharmacies and primary preceptor for the WVU School of Pharmacy/Kroger Pharmacy Community Pharmacy Practice Residency program.
"My favorite part of working in community pharmacy practice is the patient interaction," she said. "I enjoy forming relationships with patients and improving their overall care. I compare community pharmacists to primary care physicians as you have to know a lot about many different disease states."
Rumbach-Austin chose to study at the WVU School of Pharmacy because of its reputation of successful graduates, and she feels the faculty and staff at the School helped her become the professional she is today.
"I encountered personal challenges while I was a student in pharmacy school," she said. "Having professors and staff at the School who supported me during those challenges showed me what being a professional is all about. This support helped me become more empathetic, understanding and strong as a professional."
Rumbach-Austin has also been a preceptor for 16 years for our students in their final year of study before graduation. She offers these words of advice:
"During your time in pharmacy school, you need to look at your classes differently than as an undergraduate. You need to focus on the information you need to know to be a successful pharmacist who will be providing patient care, not just a successful student."
Community members might not be aware of all the health services their local pharmacists can provide aside from medication counseling. From blood pressure and cholesterol screenings to providing vaccinations, community pharmacists can help patients manage their health conditions.
"Pharmacists can do a variety of things many members of the community might not know," Rumbach-Austin said. "For example, if you are diagnosed with or currently have diabetes, community pharmacists can help you manage your health condition by providing blood glucose testing, and help you monitor and manage your testing and health behaviors, as well as answer your questions about medications for diabetes. Because of our knowledge and expertise of medications, pharmacists can help improve healthcare conditions and also follow up with patients on preventable health issues."