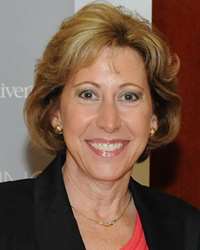 Janet L. Toth, R.Ph., is a member of the Class of 1980. She also received her bachelor's degree in biology from WVU in 1979. Ms. Toth is a Manager at Myers and Stauffer LC. During her studies at the WVU School of Pharmacy, she was a member of the Lambda Kappa Sigma student organization.
How has your education at the WVU School of Pharmacy helped you professionally?
My education at the WVU School of Pharmacy has opened doors and enabled me to take advantage of opportunities beyond anything I thought possible when I graduated. I am very grateful for the education I received which has enabled me to follow a diverse and fulfilling career path.
What is your fondest memory of the WVU School of Pharmacy?
My fondest memory is of the relationships I formed with classmates and faculty members. They definitely contributed to my success during pharmacy school and beyond. I cannot separate my education from these relationships, and I treasure the friendships that have endured through the years. I am especially grateful that Dr. Jacknowitz continues to be a good friend and mentor.
If you could tell the University community one thing about the WVU School of Pharmacy and your time here, what would it be?
The School prepares its students for success and the faculty genuinely cares about its students. Some of my strongest memories are of School of Pharmacy instructors who spent time and effort matching students to opportunities. There is no better way to build confidence and desire in students than to demonstrate faith in their abilities.
Do you have any hobbies?
My favorite hobbies are traveling, scrapbooking (of travels), ringing in my church hand bell choir, and cooking.
Do you have words of advice for our current students?
Be open to new opportunities and don't be afraid to take risks. By taking advantage of opportunities, you will stretch and learn what suits you, as well as determine what is not a good match. Pharmacy practice and your career path will change over the years. The more comfortable and confident you are, the easier it will be to meet new challenges and the more interesting and fulfilling your career will be. Do what you can to promote the profession. Be active in local and national pharmacy organizations and participate in community opportunities to promote healthcare.
Do you have any additional news you would like to share?
I was thrilled and humbled to have been inducted into the WVU School of Pharmacy Hall of Fame. The recognition is a highlight of my career.