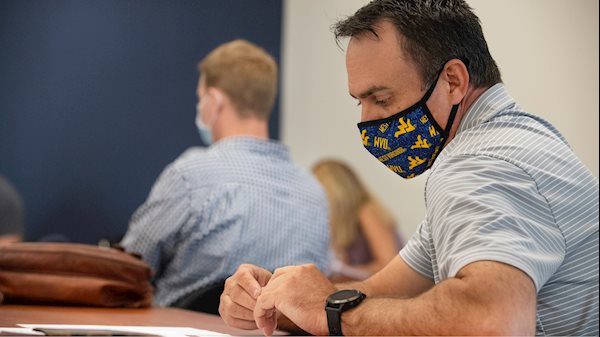 The School of Public Health and Centers for Disease Control and Prevention released their findings for week five of their seven-week mask observation study. It comes at a time when masks are more crucial than ever as COVID-19 cases surge in West Virginia and throughout the country and the state adjusts to Governor Justice's Executive Order mandating the use of face coverings in all public indoor places.
For the week of Nov. 9 (week 5), observers reported a slight decrease (-1.7 percent) in the number of individuals who wore masks, coupled with an increase (+1.7 percent) in individuals who did not wear masks. Of those who did wear masks, however, 86.1 percent wore them correctly, representing a 1.5 percent increase over the previous week.
"While I'm encouraged to see a slight bump in the percentage of people who wear masks correctly, I'd also like to see a positive change in the number of mask wearers, overall," said Keith Zullig, chair and professor in the Department of Social and Behavioral Sciences and principal investigator for the study. "As we're all hopefully aware, masks can be a game-changer in this pandemic. If 90 percent of the population would wear a mask, then its effects would be likened to having a vaccine."
As part of the study, eight Public Health students underwent mask observer training and began observations at various places across campus the week of Oct. 5. Observations will conclude on Nov. 22.
The primary purpose of the study is to estimate the percentage of people within the WVU community wearing masks correctly, as observing mask use can assist universities with determining the adherence among students, faculty and staff to inform public health decision-making.
As the study draws to an end, Zullig hopes the campus community will stay the course, especially with the upcoming holiday and WVU break.
"My message to the WVU community: you may be tempted to let 'COVID-19 fatigue' get the best of you, but please do not let down your guard," he said. "I think it's important for us to focus on 'the why' when it comes to wearing a mask, in addition to practicing appropriate physical distancing and proper hand washing techniques. Lives are at stake, and while it may not be yours, it could certainly end up being someone close to you, whether a parent, grandparent, friend or coworker, as well as the lives of healthcare workers and others who serve on the front lines of this pandemic."
Following are additional resources, including data for weeks 0-5:
*A portion of the data for week 4 was submitted after the reporting period had ended. This information has now been updated to reflect the most current data.
Previous reports can be found here:
Public Health students Aleah Stevenson and Ryan Titus share why they wear a mask:
ICYMI: Associate Professor Steve Davis explains how the mask protects you and others and shows the proper way to put on and take off a mask:
-WVU-
nl/11/17/20
---
CONTACT: Nikky Luna, Director of Marketing and Communications
WVU School of Public Health
304.293.1699