Make a Gift
Give a White Coat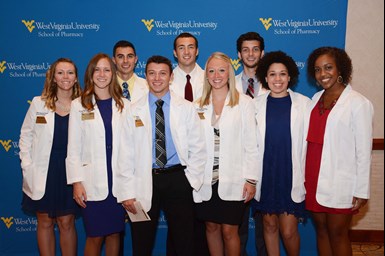 On Saturday, August 12, 2017, the School of Pharmacy will welcome the Class of 2021 into the profession of pharmacy at our Annual White Coat Ceremony. Your support by becoming a White Coat Sponsor will let our students know you share their commitment to improving the health of others. Your $60 gift will help pay for the cost of the white coat and ceremony expenses. Your name will be placed in a student's white coat pocket to personally welcome them into their chosen profession.
The deadline for sponsorships to be included in the 2017 ceremony is Friday, July 7, 2017. Sponsorships received after Friday, July 7, 2017, will be included in next year's ceremony.
You may make your gift online or download a sponsorship form and return the completed form to: 
WVU School of Pharmacy Development Office
White Coat Ceremony
PO Box 9500
Morgantown, WV 26506-9500
Please make your check payable to the WVU Foundation and include "Pharmacy White Coat" on the memo line of your check.
---
For questions about making a white coat gift, please contact the Office of Philanthropy at 304-293-3980 or annualgiving@hsc.wvu.edu.