Department of Pharmaceutical Systems and Policy
Message from the Chair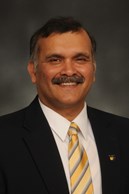 Greetings and welcome to the Department of Pharmaceutical Systems and Policy.
It is my pleasure to welcome you to our department's website and share the scope and impact of the work of our distinguished faculty and talented graduate students.
Our research is focused on health services, outcomes, and policy topics as they relate to chronic diseases treatment and outcomes. Our research is focused on rational and cost-effective medication use, investigating chronic disease health disparities, studying issues of access, cost, and quality of health care services, and evaluating the intended and unintended consequences of health policies.
Our Ph.D. program in Health Services and Outcomes Research is internationally renowned and, with 16 students, is one of the largest of its kind among the schools of pharmacy in the nation. Designated as a "Program of Excellence" by the WVU Board of Governors in 2016, it is among the top six such programs in the country. Since its inception in 1989, we have graduated 36 Ph.D. students to date. Our graduates have found excellent employment as faculty in schools of pharmacy, directors in health outcomes research departments in the pharmaceutical industry, and scientists in clinical research organizations.
Our teaching in the professional Doctor of Pharmacy curriculum focus on pharmacy management; structure and financing of the health care system; public health, and outcomes assessment and quality improvement. In our Ph.D. program, our teaching contributions reflect the expertise of our faculty in health outcomes research areas such as pharmacoeconomics, pharmacoepidemiology, health care behavior, and health related quality of life.
Our service contributions impact all the pharmacists in the state and most primary care providers in the region. The Continuing Pharmacy Education program is the largest in the state and we are one of only two providers in West Virginia. The Rational Drug Therapy Program is a call center run by pharmacists and pharmacy technicians that provide prior authorization services for pharmaceuticals to the WV Bureau of Medical Services (Medicaid) enrollees and the WV Public Employees Insurance Agency (PEIA) members. More recently, we have established the Safe and Effective Management of Pain program to implement the Centers for Disease Control's Guidelines for Opioids to curtail the growing incidences of opioid misuse and fatalities in West Virginia by partnering with WV Department of Health and Human Services – Injury and Violence Prevention program, WVBMS (Medicaid), PEIA, and the WV Board of Pharmacy.
We are located in Morgantown, W.Va., population 30,293 (US Census Bureau, 2011 ), rated "No. 1 Small City in America" by BizJournals.com and ninth best college town in America by Business Insider, and within easy traveling distance of Washington, D.C., to the east, Pittsburgh, Pennsylvania, to the north, and Cleveland and Columbus, Ohio, to the northwest.

Whether you are a potential student, colleague, research collaborator, or employer, I hope you will spend some time viewing our pages. Please feel free to contact me if you have any questions. I am very delighted that you are visiting!

Sincerely,

S. Suresh Madhavan, BPharm, MBA, PhD, FAPhA
Professor and Chair
Graduate Program Director
Senior Advisor, IDeA CTR Grant from NIGMS awarded to the West Virginia Clinical and Translational Sciences Institute
E-mail