Department of Clinical Pharmacy
Message from the Chair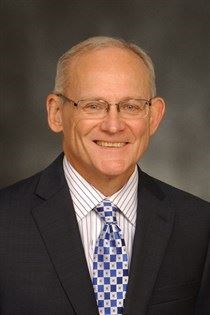 Welcome to the Department of Clinical Pharmacy! We are a team of 34 faculty and staff members who share the vision of improving health through excellence and innovation in pharmacy education, patient care, service, and the pursuit of new knowledge. Most of the faculty have the doctor of pharmacy (PharmD) degree and have completed postgraduate residency or fellowship training. The majority are board certified in one or more specialty practice areas.
Our department teaches much of the professional pharmacy curriculum, including courses in patient health education, pharmacotherapeutics, medical literature evaluation, clinical pharmacokinetics, nonprescription drugs, clinical skills laboratories, and various elective courses. The introductory and advanced pharmacy practice experience program is administered by the Office of Experiential Learning within the department. We have more than 220 extraordinary volunteer preceptors in practice sites throughout West Virginia and beyond who provide high-quality practice experiences for students. The department is also home to the West Virginia Center for Drug and Health Information, which serves health professionals statewide regarding proper medication use.
In addition to teaching in the classroom, department faculty have patient care practices in institutional, ambulatory, and community pharmacy settings. Student pharmacists taking Introductory and Advanced Pharmacy Practice Experience rotations under the supervision of these faculty members gain the knowledge, skills, and confidence they will need for their own practices upon graduation. Some faculty members also serve as Program Directors for postgraduate residencies in Drug Information, Infectious Diseases, Internal Medicine, Oncology, Geriatrics, and Community Pharmacy.
Our faculty are involved in important service activities within the School and University, our profession, and the community. In addition to academic service such as committee work and student advising, many faculty are active in state and national professional organizations in roles ranging from committee service to elected leadership positions.
All faculty members in the department are scholars and publish their work in leading pharmacy, medical, and educational journals and textbooks. As recognized leaders in their respective specialty areas, the faculty are frequently invited to present at educational and scientific meetings both nationally and internationally.
This is an exciting time for the pharmacy profession! New interprofessional, collaborative practice models are emerging within the health care system, and highly-skilled clinical pharmacists are needed to optimize medication use in all practice settings. The Clinical Pharmacy Department faculty are committed to ensuring that our graduates are prepared for the challenges and opportunities that lie ahead.
We invite you to learn more about the Clinical Pharmacy Department and School of Pharmacy by exploring this site further. If the opportunity arises, we would be delighted for you to visit the Health Sciences Center to learn more about our faculty and the important work that they do, both within and outside the classroom.
Terry L. Schwinghammer
Professor and Chair, Department of Clinical Pharmacy