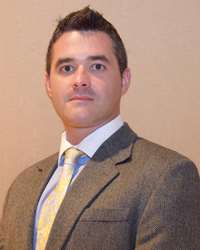 For Michael LeMasters, Pharm.D., Class of 2006, the interaction he has with patients in independent community pharmacy practice is what makes the profession of pharmacy so rewarding. "Satisfaction comes from seeing the impact you can make in a patient's life," he said. "Something as simple as making a phone call to check on them and how their medication is working for them can make their day."
Dr. LeMasters is an owner and manager of Pierpont Landing Pharmacy in Morgantown, West Virginia. Pierpont Landing Pharmacy has a sister store, Belldina's Pharmacy, in Masontown, and is also affiliated with Preston Family Pharmacy in Kingwood. LeMasters' decision to become a pharmacist stems from a great experience he had with his community pharmacist during his high school years.
"He was a very courteous and kind individual who always went out of his way to make sure his patients received the level of care they needed," LeMasters said. "I admired how the people of the community respected this individual for his ability to help them while expecting nothing in return, and it was from this I realized the positive effects and influence a pharmacist can have on a community."
While in high school, LeMasters became interested in attending the WVU School of Pharmacy due to the praise of the program by student pharmacists he knew and the chance to attend the flagship university within West Virginia. After his admissions acceptance, he was welcomed by a host of WVU School of Pharmacy faculty and staff who were willing to go above and beyond to make sure student needs were met. The personal interactions created a family-like atmosphere, and the relationships not only with fellow classmates, but also with faculty and staff have carried forward into his professional career.
Dr. LeMasters is also a preceptor for our fourth-year students and provides internship opportunities to our first-, second- and third-year students as well. With every interaction with the students he precepts and mentors, he wants to ensure they are receiving the best educational experience so that they are quality pharmacy practitioners upon their graduation. He offers these words of advice to our student pharmacists:
"I encourage current students to be active," LeMasters said. "Utilize the opportunities before you and participate in them. I feel that I was exposed to a variety of educational activities and projects while attending the West Virginia University School of Pharmacy, all of which prepared me to become an able and confident pharmacist." He also stresses the importance of learning a great deal about drug information while on rotations. "The ability to effectively locate and interpret references is an important asset, which will pay amazing dividends, not only during rotations, but throughout your career."
As October is American Pharmacists Month, Dr. LeMasters also stresses the importance of communication between patients or community members and their pharmacist.
"One thing that I would emphasize to patients and members of the community is the value of communication with your pharmacist," he said. "Pharmacists are part of your healthcare team and are medication experts as drug information is the key component of pharmacy education. A conversation with your pharmacist that may last only a few minutes could make a dramatic impact on your quality of life. I encourage every patient, not only my patients, to talk to your pharmacist."
10/26/16