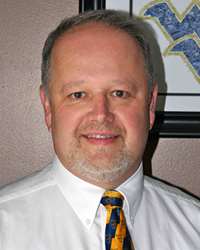 Carlton "Sonny" Hoskinson, R.Ph., is a member of the WVU School of Pharmacy Class of 1986. Mr. Hoskinson is a Clinical Pharmacist at United Hospital Center in Bridgeport, West Virginia, and is also the Director of Camp Catch Your Breath, a camp for children ages 8-13 with asthma.
How do you feel the School is preparing our student pharmacists for their careers and to be leaders in the profession of pharmacy?
Not only serving as a preceptor for the WVU School of Pharmacy at United Hospital Center, but also as the father of a fourth-year pharmacy student, I have the opportunity to get a first-hand picture of the pharmacy students and their preparedness to become the next generation of pharmacists. Today's pharmacy practice has evolved into more of a clinical focus since the time I attended in the mid 1980's and this is very evident in the knowledge that the students have by the time they reach their fourth-year rotations. The School is providing the students with a rich educational experience that can compete with any other pharmacy program in the United States.
Do you have any hobbies?
In my spare time, I enjoy hunting, traveling, and spending time with my family. Outside of that, I spend a large part of my time, organizing and directing "Camp Catch Your Breath", West Virginia's only weeklong overnight camp for children ages 8-13 with asthma. I've been involved with camp for 22 years and have served as Director for 19 years. The camp is a specialty camp staffed by medical professionals, such as nurses, respiratory therapists, pharmacists and a physician, which annually gives 70 children with asthma, a summer camp experience that they otherwise would not get to have. For this reason, I have developed a special interest in asthma education and developing a program that can affect the lives of these children in a positive manner. I strive to pass on this passion by including camp as a fourth-year elective pharmacy rotation that gives students hands-on participation and instruction in this area.
What is your fondest memory of the WVU School of Pharmacy?
My fondest memories of being in WVU's School of Pharmacy are of the faculty and the unique traits that each possessed. For that reason, I was known to respectfully do impersonations of many of them, like Dr. Lim, Dr. Ma, Dr. Brister, and Dr. Malanga, just to name a few. In fact, Dr. Malanga would come up to me with his family at social events and say, "Do your impression of me." To this day, I can still hear Dr. Malanga saying, "SECONDARY POLYCYTHEEEEMIA," in only the way he could do it.
Do you have words of advice for our current students?
College is a great time in your life. It's at times stressful and frustrating, but take time to enjoy the company of the friends you make. After graduation, you have to genuinely make an effort to stay in contact with these people whom you assume will always be close. West Virginia University and the School of Pharmacy is a great place to make memories and get a terrific education, and I am thankful to have been a part of it.
Do you have any additional news you would like to share?
Both of my children are attending West Virginia University. I am very proud to say my daughter, Kelsey, has also chosen a career in Pharmacy and will graduate in May 2014 from the WVU School of Pharmacy and my son, Logan, will also graduate in May from the WVU College of Business and Economics.

I would like to personally thank Dr. Art Jacknowitz, Dr. Charles Ponte, and Mr. Clarke Ridgway, who were the three remaining professors from my era that mentored two generations of Hoskinsons through the WVU School of Pharmacy.