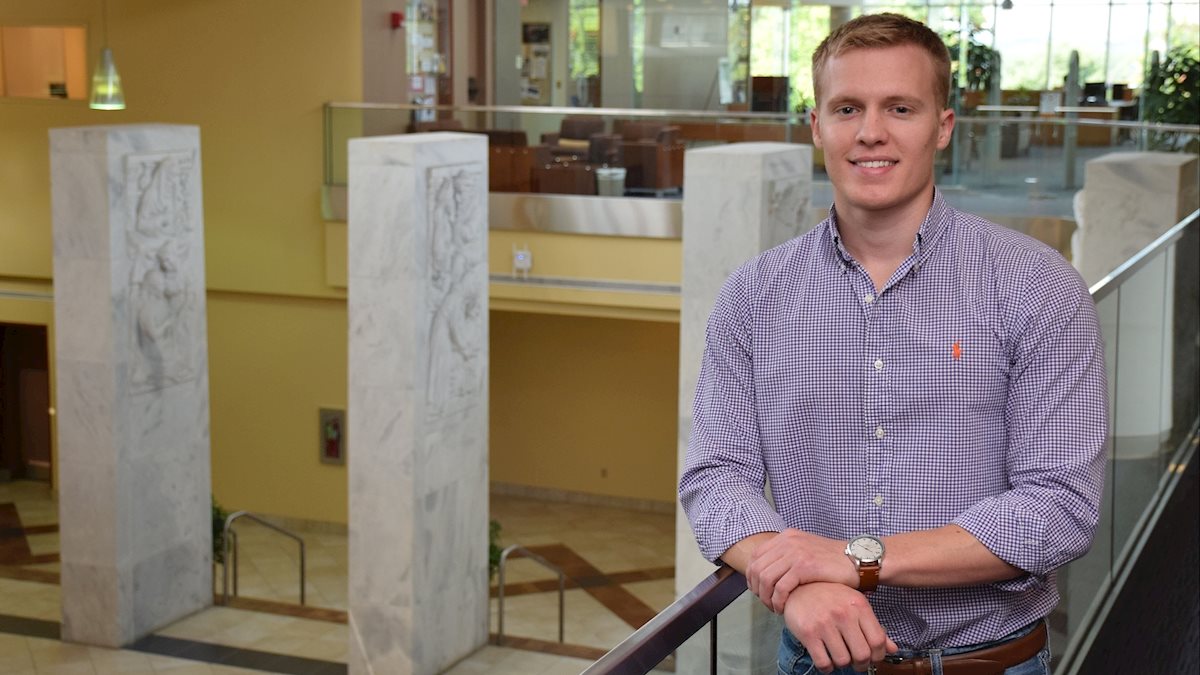 MORGANTOWN, W.Va. — Brandon Sellers, a senior biology and chemistry major from Davis & Elkins College, has been interested in science for as long as he can remember. After learning about the West Virginia IDeA Network of Biomedical Research Excellence (WV-INBRE) program from two faculty members at Davis & Elkins, Sellers applied to the program and traveled to West Virginia University this summer to take his research skills to the next level.
"The WV-INBRE program stoked my interests because it gives students like myself, who have an interest in biomedical research, the opportunity to conduct research at a state-of-the-art facility like the West Virginia University Health Sciences Center," Sellers, of Hazlehurst, Georgia, said.
West Virginia University and Marshall University received a grant for approximately $16 million dollars in 2014 to be distributed over the course of five years from the National Institutes of Health (NIH) to support an Institutional Development Award (IDeA) Network of Biomedical Research Excellence (INBRE). The IDeA program builds research capacities in states that historically have had low levels of NIH funding by supporting basic, clinical and translational research; faculty development; and infrastructure improvements.
Through this grant, WVU and Marshall University created the WV-INBRE program to offer faculty and students at smaller colleges and universities around the state the opportunity to participate in and conduct research. The grant provides a salary for each student and covers the cost of salary and research supplies for the visiting faculty members.
Faculty members from colleges and universities who want to participate in the WV-INBRE program must submit a proposal to receive research funding, and students must submit an application to participate in the program. The WV-INBRE grant review team then reviews each request and determines acceptance and project funding.
Students who are accepted then choose a professor at either WVU or Marshall as their mentor to work with and conduct research. Twenty-four students were accepted into the program this year, with 15 students spending their summer working with faculty at WVU.
Robert Griffith, Ph.D., associate professor in the WVU School of Pharmacy Department of Pharmaceutical Sciences, has been the research development coordinator of the WV-INBRE program for the past 14 years. Dr. Griffith works closely with Gary Rankin, Ph.D., vice dean for basic sciences and professor and chair of the Department of Biomedical Sciences at the Marshall University School of Medicine, who is the principal investigator for WV-INBRE, to ensure the program runs smoothly and that the students and faculty in the program are receiving the research mentorship and resources they need.
"The WV-INBRE program is important to students around the state," Griffith said. "It gives them the opportunity they otherwise may not have to participate in biomedical research. The research they will do here is very different from experiments they may do in labs at their home school. For the faculty, the program also offers them the opportunity to conduct research in the labs, but they are also able to collaborate with our researchers and then maintain that research working connection when they are back at their home school."
The WV-INBRE students jumped into a new world of research with guidance by their WVU mentoring faculty and a team of graduate assistants and post-doctoral candidates. Sellers worked with Werner Geldenhuys, Ph.D., associate professor in the WVU School of Pharmacy Department of Pharmaceutical Sciences. Sellers stated that as one of his projects, he had the opportunity to modify existing protocols for his research.
"You read about scientific concepts in textbooks, but you don't get a full understanding until you get into the lab and start synthesizing and start bringing what's on the paper into real life," Sellers said.
Students were able to conduct research on a wide variety of topics based on the mentor they selected. Tim Nguyen, a rising senior biology major at Shepherd University, worked with Paul Lockman, Ph.D., professor and chair of the WVU School of Pharmacy Department of Pharmaceutical Sciences, to create a model of a synthetic blood brain barrier. This model will allow the researchers to study the way things move from blood vessels into the brain and look for a way to treat patients diagnosed with breast cancer that has metastasized into the brain.
Nguyen, of Martinsburg, West Virginia, who is the second member of his family to take part in the WV-INBRE program, became interested in the field of science at a young age. His father used to be a surgeon when he lived in Vietnam and showed his children the different opportunities the field of science had to offer.
"When we were growing up, my father wanted his children to go into a science field like he did, and the field really grew on me," Nguyen said.
The WV-INBRE program not only benefits the visiting students and faculty members in the program, but it also benefits the mentors at the sponsoring institutions.
"I have always enjoyed mentoring undergraduate students," Dr. Lockman said. "They bring excitement and enthusiasm to the laboratory as well as fresh set of eyes on experiments that we are running. The additional input has proven invaluable at times in advancing our treatments for brain metastases of breast cancer."
To conclude the summer program, and in preparation for professional careers in research, the program participants presented posters on their research at the 15th Annual WV-INBRE Summer Research Symposium held at the WVU Erickson Alumni Center on July 25. Nguyen presented his research, "A novel in-vitro metastasis model of the Blood-Brain Barrier on a microfluidic device," and Sellers presented, "High content screening of MitoNEET ligands."
Both Nguyen and Sellers are interested in conducting more research and eventually attending medical school. The WV-INBRE program was a wonderful research experience for both students.
"This experience was an introduction into what cancer research is like, which is completely different from the college laboratory settings that I am used to," Nguyen said. "I'd really like to participate in the program again if I had the chance."
"I've learned that research takes patience, persistence and reevaluation," Sellers said. "The opportunity that the WV-INBRE program gives students of West Virginia's small institutions is a really great opportunity to better themselves in the field of science."
Brandon Sellers
Brandon Sellers discusses his research at the 15th Annual WV-INBRE Summer Research Symposium
Tim Nguyen
Tim Nguyen discusses his research at the 15th Annual WV-INBRE Summer Research Symposium
-WVU-