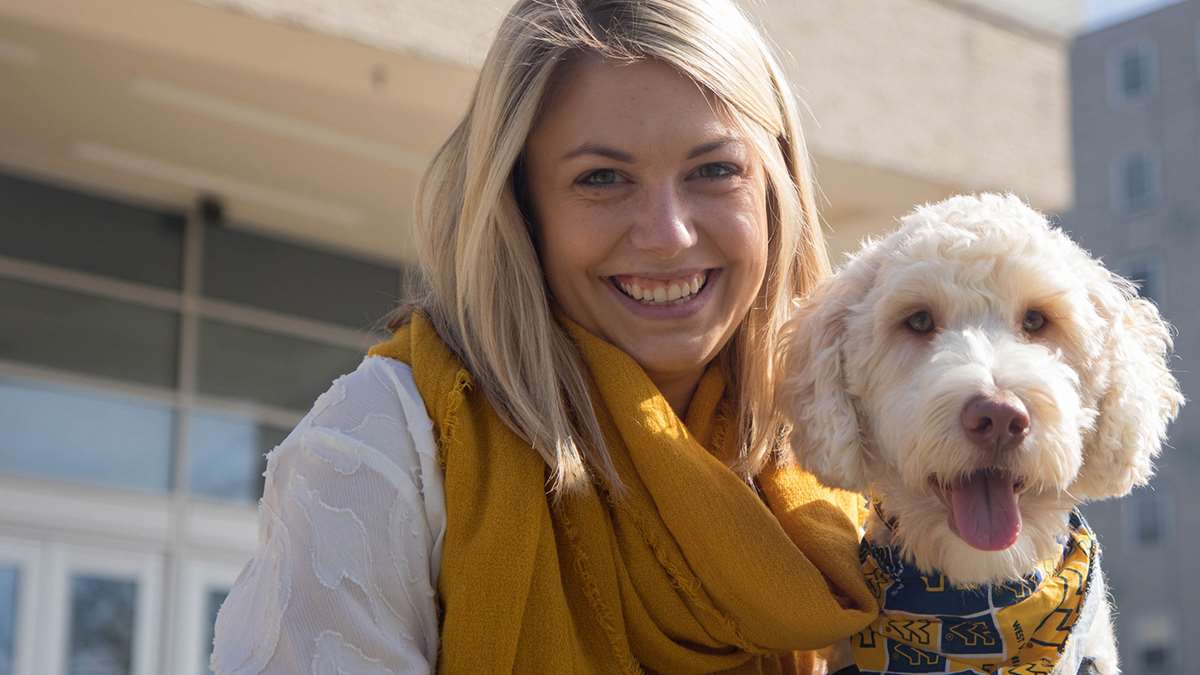 PUPPY LOVE WITH HEARTS OF GOLD
Trying to find one student in a crowded classroom of approximately 80 might normally be difficult, but it's not hard to locate Erin Barthelmess. The little yellow labradoodle curled up at her feet is the giveaway.
Barthelmess, a member of the Class of 2018 from Hurricane, West Virginia, works with the Hearts of Gold organization in Morgantown to help train service dogs. Lucas the little labradoodle is her newest puppy to foster. Barthelmess decided to enroll in the Service Dog Training class during her undergraduate studies at WVU as a way to get involved with the University and community.
"I have been training service dogs for over four years now," she said. "I have helped train dozens of dogs in the program throughout the years and have fostered three dogs.
"The Hearts of Gold organization primarily trains dogs for mobility assistance, but they also train therapy dogs and have a special program focused on training post-traumatic stress disorder service dogs for veterans. Dogs from the Hearts of Gold program have been matched and placed with clients across the country.
If you are thinking about becoming a trainer for service dogs, though, keep in mind that it is not all play and no work. A typical training period lasts one to two years. During this time, dogs are taught basic commands such as sit and stay, as well as more advanced commands, such as flipping a light switch on and off, opening and closing a refrigerator door, and pushing buttons to open handicapped-accessible doors. The dogs also spend a great deal of time on socialization out in public. Oh, and don't forget the time spent housebreaking … and shopbreaking… and carbreaking. However, from this hard work comes great rewards. Barthelmess recalls her time with her previous service dog, Chloe.
"One of the best feelings is seeing your dog master a new command," she said. "When Chloe flipped a light switch on for the first time, I couldn't have been more proud! She was also cast as the dog 'Sandy' in a local production of "Annie" at the Metropolitan Theatre. If she weren't a service dog, she could definitely be an actress. Seeing her on stage was so fun!
While seeing service dogs may bring the "Awww, puppy!" reflex out in us, remember that these dogs are on the job. Barthelmess stresses to always ask before you pet a service dog. More than likely, the handler will say yes, but some dogs — especially guide dogs — have their handlers' lives in their paws. Any type of distraction could be dangerous to the dog or the handler.
The end of the two-year training cycle can be bittersweet. Even knowing that she only has a set time with her dogs, Barthelmess says she will never get used to her last days with them.
"Giving Chloe up has been heartbreaking," she said. "I feel lost without her by my side, but I know she will make a difference in someone's life, and that's what makes it all worth it. She will help someone live a full and independent life, and that's something not many people — or dogs— could ever have the opportunity to do. I am excited to do it all over again with Lucas."
Barthelmess will be working with Lucas for the next two years. Fittingly, he will graduate from his program at the same time Barthelmess graduates from the School of Pharmacy. Maybe we'll get to see him at our graduation program, too.
Editor's Note: Want to find out more about Erin's work with Lucas? Follow Lucas on his journey on Facebook at facebook.com/servicedoodlelucas
Published in the Spring 2016 Showglobe newsletter