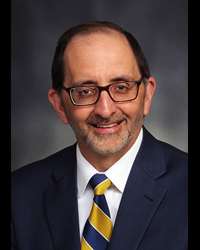 William (Bill) Petros, Pharm.D., FCCP, is a member of the WVU School of Pharmacy Class of 1983. Dr. Petros is the Gates Wigner Endowed Chair and Dean of the WVU School of Pharmacy. He is also Associate Director of Anti-Cancer Development and Director of the Clinical Pharmacology and Biospecimen Processing Cores at the WVU Cancer Institute.
How has your education at the WVU School of Pharmacy helped you professionally?
I was taught to think proactively rather than reactively when providing patient care and doing clinical research.
What is your fondest memory of the WVU School of Pharmacy?
Individual mentoring by Drs. Art Jacknowitz and Jim Stevenson.
What was your favorite class and why?
Biopharmaceutics because I subsequently did some undergraduate research in the area which sparked my ultimate career path.
How do you feel the School is preparing our student pharmacists for their careers and to be leaders in the profession of pharmacy?
I think the West Virginia University School of Pharmacy has been cognizant of providing students with a firm understanding of basic principles so they are well prepared to understand the complexity of drugs not only used now, but others which will be developed in the future.
If you could tell the University community one thing about the WVU School of Pharmacy and your time here, what would it be?
The faculty and alumni cared about us as individuals both during our education and, more importantly, long term throughout our careers.
What are your hobbies?
Golf, snow skiing, and home renovations (a necessity when living in a 90-year-old house).
Do you have words of advice for our current students?
Study hard, but find down time to relax and get to know your classmates.